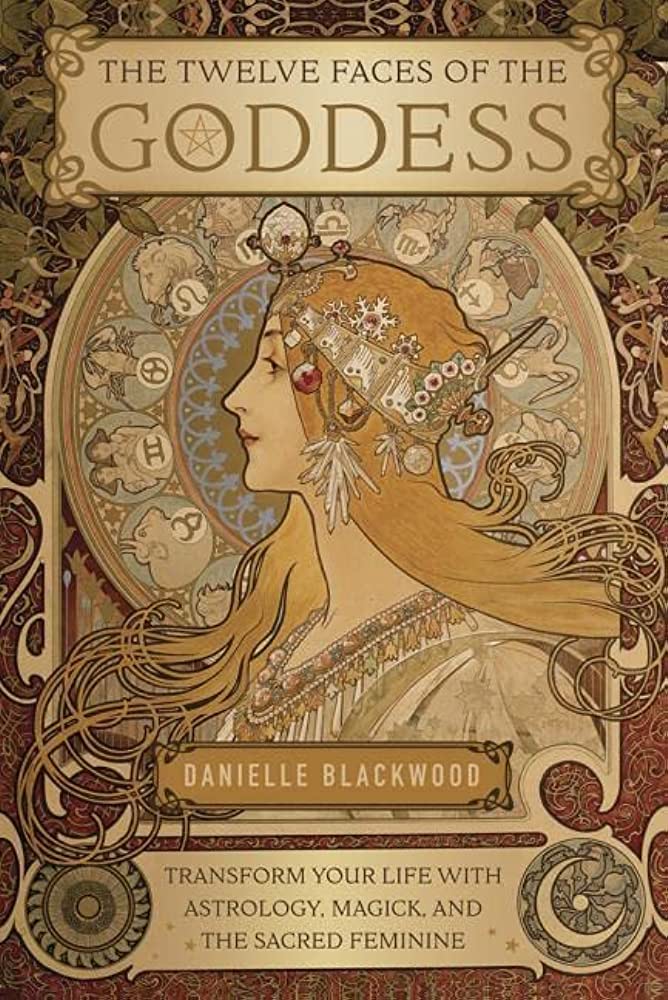 Twelve Faces of the Goddess Book
Discover the Guiding Goddesses in Your Birth Chart and Ignite Your Authenticity, Passion, and Purpose
Did you know that astrology and magick are woven from the same threads? The more you learn about one, the more you'll intuitively understand about the other. This inspiring, hands-on guide shows you how to connect with the twelve faces of the Goddess through astrology, story, ritual, and pathworking.
Explore cross-cultural myths associated with each goddess, delve into astrology from a groundbreaking feminine perspective, and discover the personality, archetype, and correspondences of each zodiac sign to unlock a deeper understanding of yourself as the heroine of your story. Work with the specific guiding goddesses in your birth chart, learn how astrology is connected to the seasonal turning points on the Wheel of the Year, and much more. The Twelve Faces of the Goddess is a reminder that connecting with the sacred feminine is an empowering and radical act that can guide you on your journey.
Praise:
"Join Danielle Blackwood] at that moonlit crossroads where magick and the sacred feminine intersect with astrology...Let The Twelve Faces of the Goddess be a lantern for you."--Steven Forrest, author of The Inner Sky
"This beautiful perspective on the stars and our relationship to them is uplifting and inspiring, enlightening and intriguing."--Spirituality Today, 5-star review
"An inspiring exploration of the archetypal interconnections between astrology, ritual, and the divine feminine."--Kris Waldherr, bestselling author of The Book of Goddesses and creator of The Goddess Tarot
"Danielle has beautifully woven a book that everyone can use to enhance their journey into the feminine and the mysteries on many levels. Though it is about the goddesses and the feminine found in the archetypes of astrology, mythology, ritual and the magical, it is not a book for women only. It is a book for all on the seeking path--to the realms of their own inner space; all the types are familiar to us, but now we have the language."--Erin Sullivan, author, astrologer, and teacher
"A refreshing look at astrology from the perspective of the divine feminine. The topic of astrology is often intimidating to learn, but Blackwood presents information about the signs and how to use the magick and power of the goddesses connected to them in an easy-to-understand and relatable way...this is a must-read."--Stephanie Woodfield, author of Dark Goddess Craft
"This beautifully written book is a thoroughly uplifting, as well as informative, read and now has a place at the top of my list of favorite astrology books."--Lisa Tenzin-Dolma, author of The Planetary Myths and Take Control with Astrology
"Looking for a book that seamlessly weaves Goddess spirituality, archetypal psychology, and astrology together into a tapestry of love, magic, and (surprise ) real-world wisdom? The Twelve Faces of the Goddess by Danielle Blackwood is the book you are looking for."--Anne Newkirk Niven, editor of SageWoman
---
Free shipping on orders over $100
Twelve Faces of the Goddess Book
Our Selection Process
Ethically Sourced
All of our products are sourced ethically from small businesses and family owned mines all over the world.
We do no support slave labour, unfair working conditions or unfair pay.
Hand Picked
All of our stones are hand picked for their quality, beauty, uniqueness and essense. It is extremely important for us to retain a personal touch in our business and not bulk buy in batches where we can't control the quality we receive.
We love what we do and this is our favourite part of the job!
High Quality
Quality is so important to us, we choose only the highest quality stones and are very transparent with you, the customer, about the quality and any imperfections.
Whilst we do our best to maintain this right down to our smallest tumbles and roughs, natural imperfections will occur and we trust that the universe will deliver you something that is meant for you.
Competitive Prices
We source all of our crystals direct from all over the world and this means that we can maintain our extremely affordable prices.
We maintain the same margin on all of our stones, regardless of popularity, trends or rare inclusions. If we buy it at a good price, we pass this on to you!
Shipping / Pick Up
Pick Up
Orders can be collected from our Newtown store during our opening hours from Monday to Sunday.
Orders are generally ready for collection the next day however if you urgently need your order on the same day, you can give us a call to arrange that.
Fast Australian Shipping
In most cases, orders are picked, packed and collected by courier within 1-2 days.

Delivery times within Australia can vary from 1-7 days depending on how remote your location is.
International Shipping
Yes, we do ship internationally. If your country is not available from the shipping tab when you checkout, please contact us for a quote.
International delivery times vary depending on the country, again you can contact us directly to find out an estimate.
Returns & Exchanges
Can I Change My Mind?
Yes, you have 14 days to change your mind and exchange your item. Please note that we do not refund but will offer an exchange for something of equal or greater value.
If you purchased something online, you must cover the cost of return postage of the item and the cost of shipping the replacement item out to you.
Do You Accept Returns?
Yes, you can return an item within 14 days if you are dissatisfied with the item chosen for a full refund.
The item must be unopened and in new condition, unless upon opening you notice that it is damaged.
Please email us at crystalarcanainfo@gmail.com to discuss returns.