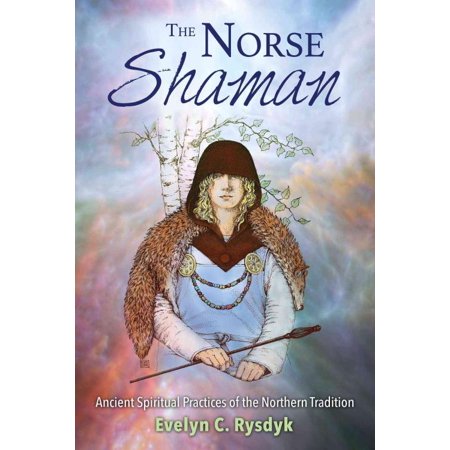 The Norse Shaman Book: Ancient Spiritual Practices of the Northern Tradition
Shamanism is humanity's oldest spiritual tradition. In much of the Western world, the indigenous pre-Christian spiritual practices have been lost. Yet at the northern fringes of Europe, Christianity did not displace the original shamanic practices until the end of the Viking age. Remnants of Norse shamanic spirituality have survived in myths, folk traditions, and written records from Iceland, providing many clues about the ancient European shaman's world, especially when examined in conjunction with other shamanic cultures in northern Eurasia, such as the Sami and the tribes of Siberia. Reconstructing the shamanic practices of the hunter-gatherers of Scandinavia, Evelyn Rysdyk explores the evolution of Norse shamanism from its earliest female roots to the pre-Christian Viking Age.
She explains how to enter Yggdrasil, the World Tree, to travel to other realms and provides shamanic journeys to connect with the ancestral shamans of your family tree, including the Norse goddess Freyja, the very first shaman. She offers exercises to connect with the ancient goddesses of fate, the Norns, and introduces the overnight wilderness quest of útiseta for reconnecting with the powers of nature. She explains the key concepts of Ørlög and Wyrd--the two most powerful forces that shape human lives--and provides exercises for letting go of harmful behavior patterns and transforming simple knowledge into profound wisdom by connecting with Óðinn.
Thoroughly examining the shamanic rituals of seiðr, the oracular magic of the Nordic cultures, the author provides step-by-step instructions to prepare for and conduct a seiðr ceremony, including creating your own seiðr staff and hood, and explores the ancestral use of shamanic songs or varðlokur to accompany the ceremony. Woven throughout these exercises, Rysdyk provides archaeological evidence from Neolithic sites supporting the long tradition of venerating wise women, grandmothers, and mothers in ancient cultures and the important role of female shamans at the heart of northern European shamanism. Providing an accessible guide for anyone trying to fulfill their shamanic callings, these powerful rituals can provide personal healing and a clear path for finding our way into a harmonious relationship with the natural world.
---
Free shipping on orders over $100
The Norse Shaman Book: Ancient Spiritual Practices of the Northern Tradition
Our Selection Process
Ethically Sourced
All of our products are sourced ethically from small businesses and family owned mines all over the world.
We do no support slave labour, unfair working conditions or unfair pay.
Hand Picked
All of our stones are hand picked for their quality, beauty, uniqueness and essense. It is extremely important for us to retain a personal touch in our business and not bulk buy in batches where we can't control the quality we receive.
We love what we do and this is our favourite part of the job!
High Quality
Quality is so important to us, we choose only the highest quality stones and are very transparent with you, the customer, about the quality and any imperfections.
Whilst we do our best to maintain this right down to our smallest tumbles and roughs, natural imperfections will occur and we trust that the universe will deliver you something that is meant for you.
Competitive Prices
We source all of our crystals direct from all over the world and this means that we can maintain our extremely affordable prices.
We maintain the same margin on all of our stones, regardless of popularity, trends or rare inclusions. If we buy it at a good price, we pass this on to you!
Shipping / Pick Up
Pick Up
Orders can be collected from our Newtown store during our opening hours from Monday to Sunday.
Orders are generally ready for collection the next day however if you urgently need your order on the same day, you can give us a call to arrange that.
Fast Australian Shipping
In most cases, orders are picked, packed and collected by courier within 1-2 days.

Delivery times within Australia can vary from 1-7 days depending on how remote your location is.
International Shipping
Yes, we do ship internationally. If your country is not available from the shipping tab when you checkout, please contact us for a quote.
International delivery times vary depending on the country, again you can contact us directly to find out an estimate.
Returns & Exchanges
Can I Change My Mind?
Yes, you have 14 days to change your mind and exchange your item. Please note that we do not refund but will offer an exchange for something of equal or greater value.
If you purchased something online, you must cover the cost of return postage of the item and the cost of shipping the replacement item out to you.
Do You Accept Returns?
Yes, you can return an item within 14 days if you are dissatisfied with the item chosen for a full refund.
The item must be unopened and in new condition, unless upon opening you notice that it is damaged.
Please email us at crystalarcanainfo@gmail.com to discuss returns.