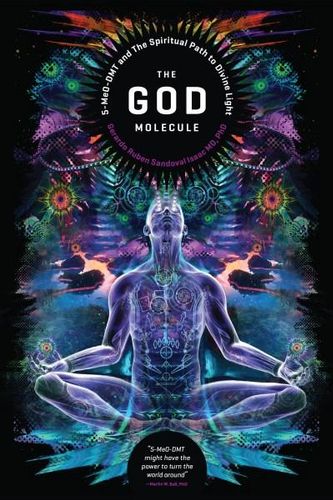 The God Molecule By Gerardo Ruben Sandoval Isaac
Carlos Castaneda meets Breaking Bad in the true story of the world s most powerful entheogen. 
Leaving behind a sheltered, high-society lifestyle as a Mexican teenager desperate to understand his place in the universe, the author embarks on a majestic entheogenic pilgrimage, as he becomes a modern-day Carlos Castaneda, guiding spiritual explorers to the powerful peyote cactus in one of the most sacred land in the world: the deserts of Real de Catorce.
Continuing his quest under the tutelage of many different entheogens, he grows even more determined to find the most powerful source of healing energy in the natural world. Eventually he uncovers in the secretions of the Sonoran Desert toad the most profound healer of all: 5-MeO-DMT, the God molecule. Move over, ayahuasca. Looks like the magic toad ride is the next big thing for entheogenic explorers. -- Don Lattin, bestselling author of The Harvard Psychedelic Club Gerardo Ruben Sandoval Isaac MD, OB-GYN, is a doctor, gynecologist, medicine man, and founder and director of the Bufo Alvarius Foundation.
He performs 5-MeO-DMT ceremonies around the world, treating thousands of people with symptoms of chemical addictions, depression, anxiety disorders, insomnia, and trauma. He lives in Mexico. Martin W. Ball, PhD is a writer, publisher, visionary artist, and musician. He earned his MA and PhD in Religious Studies in 2000 with an emphasis on Native American traditions, Philosophy of Science and Religion, and the Phenomenology of Mystical and Shamanic Experience.
He is the author of numerous books, including Being Human: An Entheological Guide to God, Evolution, and the Fractal, Energetic Nature of Reality He lives in Ashland, Oregon."
---
Free shipping on orders over $100
The God Molecule By Gerardo Ruben Sandoval Isaac
Our Selection Process
Ethically Sourced
All of our products are sourced ethically from small businesses and family owned mines all over the world.
We do no support slave labour, unfair working conditions or unfair pay.
Hand Picked
All of our stones are hand picked for their quality, beauty, uniqueness and essense. It is extremely important for us to retain a personal touch in our business and not bulk buy in batches where we can't control the quality we receive.
We love what we do and this is our favourite part of the job!
High Quality
Quality is so important to us, we choose only the highest quality stones and are very transparent with you, the customer, about the quality and any imperfections.
Whilst we do our best to maintain this right down to our smallest tumbles and roughs, natural imperfections will occur and we trust that the universe will deliver you something that is meant for you.
Competitive Prices
We source all of our crystals direct from all over the world and this means that we can maintain our extremely affordable prices.
We maintain the same margin on all of our stones, regardless of popularity, trends or rare inclusions. If we buy it at a good price, we pass this on to you!
Shipping / Pick Up
Pick Up
Orders can be collected from our Newtown store during our opening hours from Monday to Sunday.
Orders are generally ready for collection the next day however if you urgently need your order on the same day, you can give us a call to arrange that.
Fast Australian Shipping
In most cases, orders are picked, packed and collected by courier within 1-2 days.

Delivery times within Australia can vary from 1-7 days depending on how remote your location is.
International Shipping
Yes, we do ship internationally. If your country is not available from the shipping tab when you checkout, please contact us for a quote.
International delivery times vary depending on the country, again you can contact us directly to find out an estimate.
Returns & Exchanges
Can I Change My Mind?
Yes, you have 14 days to change your mind and exchange your item. Please note that we do not refund but will offer an exchange for something of equal or greater value.
If you purchased something online, you must cover the cost of return postage of the item and the cost of shipping the replacement item out to you.
Do You Accept Returns?
Yes, you can return an item within 14 days if you are dissatisfied with the item chosen for a full refund.
The item must be unopened and in new condition, unless upon opening you notice that it is damaged.
Please email us at crystalarcanainfo@gmail.com to discuss returns.