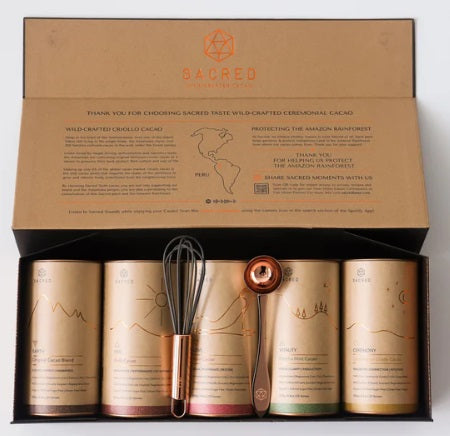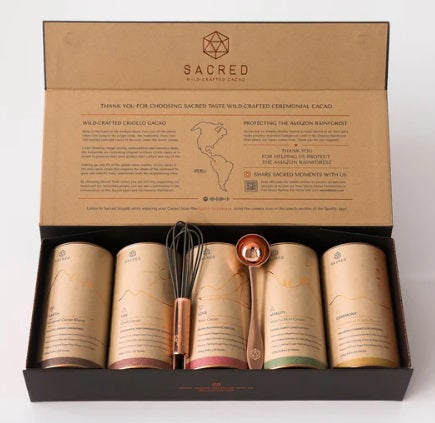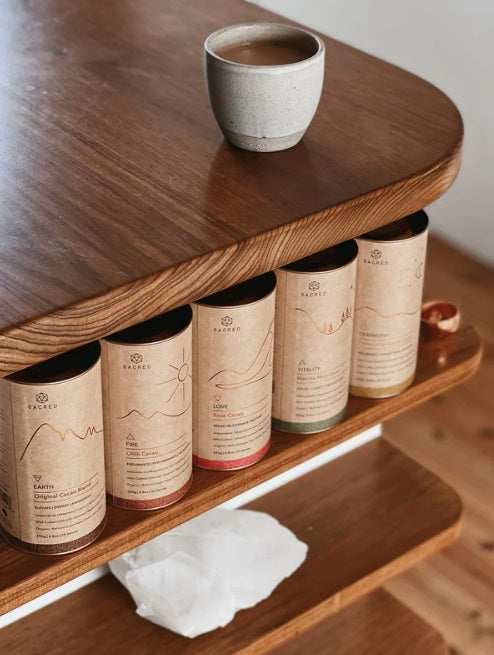 Sacred Taste Cacao - 5 Flavour Box Set
5 Flavours of Sacred Wild-Crafted Cacao

Ceremony: Ceremonial Grade Cacao

Earth: Original Cacao

Fire: Chili Cacao
Love: Rose Cacao
Vitality: Matcha Mint Cacao
+ Bonus Copper Spoon & Whisk!
Ceremony is made with 100% Pure Ceremonial Grade Heirloom Criollo Cacao Mass, thoughtfully presented in its natural, chunky solid state, with its essential fats intact. Use Ceremony as part of your spiritual practice to improve wellbeing, enhance intuition and deepen your connection to Self, Spirit & Mother Nature!
Earth, Fire, Love, and Vitality is meticulously crafted in a convenient powder form, thoughtfully infused with the essence of Wild-Crafted Criollo Cacao and a medley of 100% organic, plant-based, whole-food ingredients.

Our Cacao Is:
100% Organic Ingredients
Refined Sugar Free
Gluten-Free
Preservative Free
Dairy Free
Vegan
The Benefits of Cacao:

Calm the mind
Elevate mood
Enhance productivity
Relax the nervous system
Increase awareness
Deepen connection
Provide sustainable energy
Taste the Difference:
Wild-crafted
Ethically Sourced
Regenerative Cacao
WHO IS SACRED TASTE? 
Sacred Taste is a producer of premium, organic, gluten free, refined sugar free, preservative free, vegan Drinking Cacao. Founded in Melbourne, Australia, we hand blend Raw Amazonian Cacao with plant-based whole-food ingredients to create a unique and delicious, healthy Drinking Cacao range.
Based on a foundation of wellness and sustainability, we pride ourselves on delivering the most sustainable, delicious and nutritious Drinking Cacao that takes care of the planet and it's people, nourishing the lives of everyone it touches and protecting Indigenous Lands from where our Cacao comes from.
In August 2019, we travelled to South America in search of the origins of Cacao. It was our mission to go straight to source and discover exactly where Cacao comes from, how it is made and the impact it has on the local people and environment.
After spending weeks travelling through the high and lowlands of Peru, our journey led us into the centre of the Amazon basin and to the birthplace of Cacao. After a 15 hour bus ride and 6 hour canoe ride, we reached the heart of the Amazon jungle where we met with the oldest Indigenous tribes in South America, the Ashaninka. Here, we learnt about the importance of Cacao, the essence of its spirit and the Ashaninka way of life.
THE ASHANINKA
"Kametsa Asaika" which translates to "The Good Life" are eight principles the Ashaninka live by. They relate to culture, food, land security, harmony with nature, peace, sustainability, health, education and living as Ashaninkasanori. Currently under threat by the narcotics trade, terrorism, deforestation and illegal mining, the Ashaninka tribes are begging to commercialise Cacao as a means to preserve their land and protect their way of life. At Sacred, it's our philosophy to leave the place better than we found it, and leave people better than we found them. We are proud to be supporting the Ashaninka in achieving this mission.
OUR ETHOS
From seed to serve and belly to bin, we've ensured that our cacao improves the lives of everyone it touches. We support the Ashaninka tribes in cultivating only the finest, heirloom criollo cacao beans that are ethically sourced and sustainably made to bring you the joy, happiness, peace and harmony that each cup of cacao can provide. It's our mission to preserve the land and protect the culture from where our cacao comes from whilst helping the western world reconnect to the planet and their purpose through remembering what is Sacred.
OUR PURPOSE
Through our efforts, we aim to preserve and protect Indigenous lands in the Amazon Rainforest and seek to bridge the gap between the ancient and modern, the spiritual and the material, the natural and the digital.
We hope you enjoy the delicious benefits of your cup of Sacred, and sip mindfully knowing that each serve is made with love and contributing to the health and wellbeing of the planet.
"Whenever there is an imbalance between humans and nature, cacao makes its way out of the jungle to open our hearts and return the planet to a state of harmony" - Ancient Mayan Legend.
---
Free shipping on orders over $100
Sacred Taste Cacao - 5 Flavour Box Set
Our Selection Process
Ethically Sourced
All of our products are sourced ethically from small businesses and family owned mines all over the world.
We do no support slave labour, unfair working conditions or unfair pay.
Hand Picked
All of our stones are hand picked for their quality, beauty, uniqueness and essense. It is extremely important for us to retain a personal touch in our business and not bulk buy in batches where we can't control the quality we receive.
We love what we do and this is our favourite part of the job!
High Quality
Quality is so important to us, we choose only the highest quality stones and are very transparent with you, the customer, about the quality and any imperfections.
Whilst we do our best to maintain this right down to our smallest tumbles and roughs, natural imperfections will occur and we trust that the universe will deliver you something that is meant for you.
Competitive Prices
We source all of our crystals direct from all over the world and this means that we can maintain our extremely affordable prices.
We maintain the same margin on all of our stones, regardless of popularity, trends or rare inclusions. If we buy it at a good price, we pass this on to you!
Shipping / Pick Up
Pick Up
Orders can be collected from our Newtown store during our opening hours from Monday to Sunday.
Orders are generally ready for collection the next day however if you urgently need your order on the same day, you can give us a call to arrange that.
Fast Australian Shipping
In most cases, orders are picked, packed and collected by courier within 1-2 days.

Delivery times within Australia can vary from 1-7 days depending on how remote your location is.
International Shipping
Yes, we do ship internationally. If your country is not available from the shipping tab when you checkout, please contact us for a quote.
International delivery times vary depending on the country, again you can contact us directly to find out an estimate.
Returns & Exchanges
Can I Change My Mind?
Yes, you have 14 days to change your mind and exchange your item. Please note that we do not refund but will offer an exchange for something of equal or greater value.
If you purchased something online, you must cover the cost of return postage of the item and the cost of shipping the replacement item out to you.
Do You Accept Returns?
Yes, you can return an item within 14 days if you are dissatisfied with the item chosen for a full refund.
The item must be unopened and in new condition, unless upon opening you notice that it is damaged.
Please email us at crystalarcanainfo@gmail.com to discuss returns.