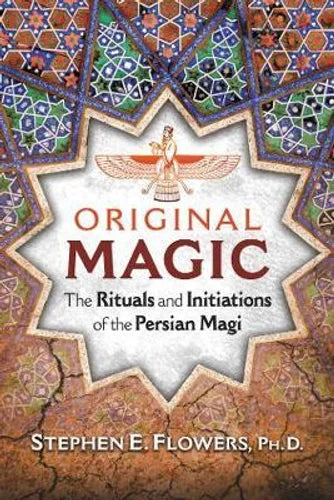 Original Magic Book: the rituals and initiations of Persian Magi
A complete guide to the theory, practice, and history of Mazdan magic, the first organized system of magic
• Provides a complete curriculum of magical study and initiation centered on exercises keyed to the sacred Zoroastrian calendar
• Details advanced magical rituals and practices based on archaic Persian formulas, including fire rituals and divine invocations
• Explores the history and lore of Persian magic, explaining how the author reconstructed the original Mazdan system of magic
Stephen Flowers explores the history, theory, practice, rituals, and initiations of the Mazdan magical system practiced by the Magi of ancient Persia, who were so skilled and famed for their effectiveness that their name came to mean what we today call "magic." The prestige and reputation of the Magian priests of Mazda is perhaps most iconically recorded in the Christian story of the Three Wise Men who visited newborn Jesus.
The author explains how the religious branch of the Mazdan magical system, founded by the Prophet Zarathustra, is known in the West under the name Zoroastrianism. He reveals how the Zoroastrian religion, which acts as a matrix for the symbols and formulas of the original form of magic, has existed for almost four thousand years with roots going back even deeper into the Indo-European past. The author reveals how all other known systems of magic have borrowed from this tradition, providing the clues that enabled him to reformulate the original Mazdan system.
He reviews what the Greeks, Romans, Hebrews, Christians, and Chinese said about the Iranian-Persian tradition of the Mazdans and their invention of a magical technology. He explains how the ultimate aim of the original form of magic was not only individual wisdom, self-development, and empowerment, but also the overall betterment of the world.
Outlining the theoretical principles of this method, which can be applied in practical ways to deepen the effectiveness of these magical operations, the author details a complete curriculum of magical study and initiation based on a series of graded exercises keyed to the sacred Zoroastrian calendar. He then offers a series of more advanced magical rituals and practices based on archaic Persian formulas, including fire rituals and divine invocations. Providing a manual for the original magical system used by the members of the Great Fellowship, this book guides you toward the comprehensive practice of the Mazdan philosophy, the ultimate outcome of which is 
ushta
: Happiness.
About the Author
Stephen E. Flowers, Ph.D., received his doctorate in Germanic languages and medieval studies from the University of Texas at Austin and studied the history of occultism at the University of Gottingen, Germany. The author of more than 24 books, including 
Lords of the Left-Hand Path
and 
Icelandic Magic,
 he lives near Smithville, Texas.
---
Free shipping on orders over $100
Original Magic Book: the rituals and initiations of Persian Magi
Our Selection Process
Ethically Sourced
All of our products are sourced ethically from small businesses and family owned mines all over the world.
We do no support slave labour, unfair working conditions or unfair pay.
Hand Picked
All of our stones are hand picked for their quality, beauty, uniqueness and essense. It is extremely important for us to retain a personal touch in our business and not bulk buy in batches where we can't control the quality we receive.
We love what we do and this is our favourite part of the job!
High Quality
Quality is so important to us, we choose only the highest quality stones and are very transparent with you, the customer, about the quality and any imperfections.
Whilst we do our best to maintain this right down to our smallest tumbles and roughs, natural imperfections will occur and we trust that the universe will deliver you something that is meant for you.
Competitive Prices
We source all of our crystals direct from all over the world and this means that we can maintain our extremely affordable prices.
We maintain the same margin on all of our stones, regardless of popularity, trends or rare inclusions. If we buy it at a good price, we pass this on to you!
Shipping / Pick Up
Pick Up
Orders can be collected from our Newtown store during our opening hours from Monday to Sunday.
Orders are generally ready for collection the next day however if you urgently need your order on the same day, you can give us a call to arrange that.
Fast Australian Shipping
In most cases, orders are picked, packed and collected by courier within 1-2 days.

Delivery times within Australia can vary from 1-7 days depending on how remote your location is.
International Shipping
Yes, we do ship internationally. If your country is not available from the shipping tab when you checkout, please contact us for a quote.
International delivery times vary depending on the country, again you can contact us directly to find out an estimate.
Returns & Exchanges
Can I Change My Mind?
Yes, you have 14 days to change your mind and exchange your item. Please note that we do not refund but will offer an exchange for something of equal or greater value.
If you purchased something online, you must cover the cost of return postage of the item and the cost of shipping the replacement item out to you.
Do You Accept Returns?
Yes, you can return an item within 14 days if you are dissatisfied with the item chosen for a full refund.
The item must be unopened and in new condition, unless upon opening you notice that it is damaged.
Please email us at crystalarcanainfo@gmail.com to discuss returns.