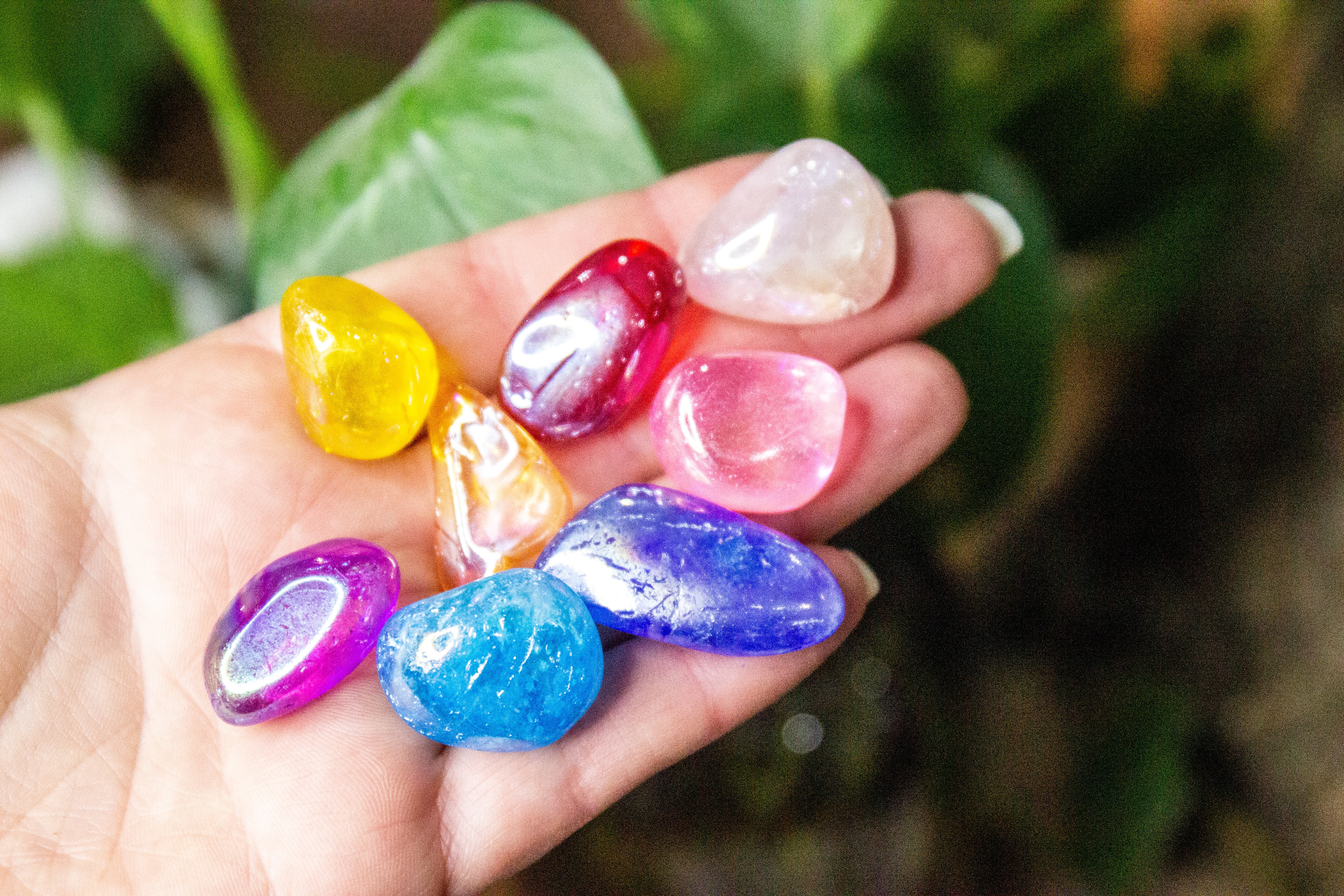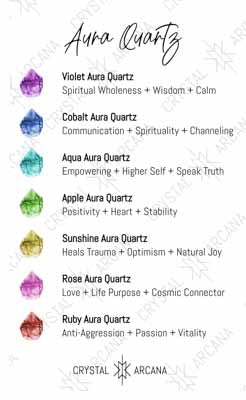 Mixed Aura Clear Quartz Tumble
Approximate Size: 1.5-2cm
**Price is per one piece, intuitively picked for you. The pictures represent the quality and sizing you can expect to receive however please note that stone is unique and one of a kind so there will be slight variations. These pieces may have some small natural fractures or cracks/chips on edges.
Aura Quartz

Though artificially enhanced by modern techniques, these crystals utilise the ancient powers of alchemy and synergy. By electrostatically bonding precious metals from the Earth onto the surface of natural Clear Quartz points or clusters, a new, unified color layer is created, a permanent blend that intensifies the properties of the original elements, as well as emanating a unique spectrum of subtle energies on its own.


Purple Spirit Aura Quartz - Clear Quartz bonded with pure solid gold, indium, and occasionally niobium. Brings about feelings of spiritual wholeness, instills happiness and joy, and enhances meditative states & practices.

Cobalt Aura Quartz – Clear Quartz bonded with Cobalt. Increased communication and connect to the your spirituality, higher consciousness and the spirit world. Great for channeling.

Aqua Aura Quartz – Clear Quartz bonded with Gold. It will make your feel empowered, speak your truth and help you connect to your higher self.
Apple Aura Quartz – Clear Quartz bonded with Nickel. It can give you a positive outlook on life, heal the heart, provide emotional stability and energize you.

Sunshine Aura Quartz – Clear Quartz bonded with Gold and Platinum. Heals old traumas and helps you to accept your life. It inspires optimism, natural joy and spontaneity. Positive for removing negativity.

Rose Aura Quartz – Clear Quartz bonded with Platinum, sometimes with additional Gold or Silver. A stone of unconditional love, helps you find your spiritual purpose and is a cosmic connector.
Strawberry Aura Quartz – Clear Quartz bonded with Platinum, sometimes with additional Gold or Silver. Enhances love, passion and vitality. Protective against aggression and violence. Transmutes negative energy into positive uplifting energy.
Rainbow Titanium Aura Quartz – Clear Quartz bonded with Gold and Titanium. Stimulates kundalini experience. Great for astral journeying, reading auras, vitality and strength. Opens energy blockages.
---
Free shipping on orders over $100
Mixed Aura Clear Quartz Tumble
Our Selection Process
Ethically Sourced
All of our products are sourced ethically from small businesses and family owned mines all over the world.
We do no support slave labour, unfair working conditions or unfair pay.
Hand Picked
All of our stones are hand picked for their quality, beauty, uniqueness and essense. It is extremely important for us to retain a personal touch in our business and not bulk buy in batches where we can't control the quality we receive.
We love what we do and this is our favourite part of the job!
High Quality
Quality is so important to us, we choose only the highest quality stones and are very transparent with you, the customer, about the quality and any imperfections.
Whilst we do our best to maintain this right down to our smallest tumbles and roughs, natural imperfections will occur and we trust that the universe will deliver you something that is meant for you.
Competitive Prices
We source all of our crystals direct from all over the world and this means that we can maintain our extremely affordable prices.
We maintain the same margin on all of our stones, regardless of popularity, trends or rare inclusions. If we buy it at a good price, we pass this on to you!
Shipping / Pick Up
Pick Up
Orders can be collected from our Newtown store during our opening hours from Monday to Sunday.
Orders are generally ready for collection the next day however if you urgently need your order on the same day, you can give us a call to arrange that.
Fast Australian Shipping
In most cases, orders are picked, packed and collected by courier within 1-2 days.

Delivery times within Australia can vary from 1-7 days depending on how remote your location is.
International Shipping
Yes, we do ship internationally. If your country is not available from the shipping tab when you checkout, please contact us for a quote.
International delivery times vary depending on the country, again you can contact us directly to find out an estimate.
Returns & Exchanges
Can I Change My Mind?
Yes, you have 14 days to change your mind and exchange your item. Please note that we do not refund but will offer an exchange for something of equal or greater value.
If you purchased something online, you must cover the cost of return postage of the item and the cost of shipping the replacement item out to you.
Do You Accept Returns?
Yes, you can return an item within 14 days if you are dissatisfied with the item chosen for a full refund.
The item must be unopened and in new condition, unless upon opening you notice that it is damaged.
Please email us at crystalarcanainfo@gmail.com to discuss returns.