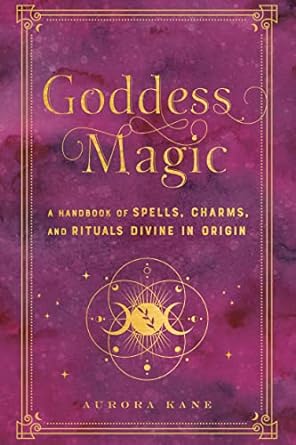 Tune into the divine power of Goddess Magic, featuring a directory of deities alongside 50 spells, altars, and exaltations to amplify your highest vibes and attract fulfilment, success, friendship, growth, love, and fortune. Goddesses, both new and old, will lend their powers to those who seek their favour. Goddess Magic helps you channel divine power while also helping you find your patron deity of choice. Connect with your spiritual heritage and tap into the powers of your ancestors and all the mystical beings around you.
This beautiful handbook contains well-known goddesses from the ancient world famously claimed by witches throughout the ages as well as other, less common ones, like catholic patron saints, around whom specific spells and rituals have grown. Each goddess rules over her domain, protecting and inspiring those who seek her favour with traditional rituals and spells praising her. Her symbols, favourite offerings, and favoured forms of worship are all explained in the same illustrated and informative way as the previous books in the series. Here is but a taste of the powerful patrons you can learn about:
- HECATE is the Greek goddess of witchcraft and divination. Her Roman counterpart is called TRIVIA and both accept offerings at crossroads. She transmits good news of the future, resides as a patron deity over divination spells. She's an excellent guide for new ventures and is a powerful guardian.
- KAMALA is an incarnation of the Hindu goddess Lakshmi, the goddess of wealth and creativity. Invoke her to bring creative skills so that you can fill your life with pleasure and wealth of every kind by offerings of rice and ghee.
- MARIE LAVEAU may be the most influential American practitioner of the magical arts. The notorious Voudou Queen of New Orleans dispensed charms and potions (even saving several condemned men from the gallows), told fortunes, and healed the sick.
- SAINT LUCIA is the bearer of light in the darkness of winter. She is the patron saint of the blind, authors, cutlers, glaziers, labourers, martyrs, peasants, saddlers, salesmen, and stained glass workers.
- YEMAYA is the Yoruba Orisha or Goddess of the living Ocean, considered the mother of all. She is the source of all the waters, including the rivers of western Africa, especially the River Ogun. She is associated with the Orisha Olokin (Who is variously described as female, male, or hermaphrodite), Who represents the depths of the Ocean and the unconscious, and together They form a balance. She is the sister and wife of Aganju, the God of the soil, and the mother of Oya, Goddess of the winds.
The Mystical Handbook series from Wellfleet takes you on a magical journey through the wonderful world of spellcraft and spellcasting. Explore a new practice with each volume and learn how to incorporate spells, rituals, blessings, and cleansings into your daily routine. These portable companions feature beautiful foil-detail covers and colour-saturated interiors on a premium paper blend.
Other titles in the series include: Witchcraft, Moon Magic, Love Spells, Knot Magic, Superstitions, House Magic, and Herbal Magic.
---
Free shipping on orders over $100
Our Selection Process
Ethically Sourced
All of our products are sourced ethically from small businesses and family owned mines all over the world.
We do no support slave labour, unfair working conditions or unfair pay.
Hand Picked
All of our stones are hand picked for their quality, beauty, uniqueness and essense. It is extremely important for us to retain a personal touch in our business and not bulk buy in batches where we can't control the quality we receive.
We love what we do and this is our favourite part of the job!
High Quality
Quality is so important to us, we choose only the highest quality stones and are very transparent with you, the customer, about the quality and any imperfections.
Whilst we do our best to maintain this right down to our smallest tumbles and roughs, natural imperfections will occur and we trust that the universe will deliver you something that is meant for you.
Competitive Prices
We source all of our crystals direct from all over the world and this means that we can maintain our extremely affordable prices.
We maintain the same margin on all of our stones, regardless of popularity, trends or rare inclusions. If we buy it at a good price, we pass this on to you!
Shipping / Pick Up
Pick Up
Orders can be collected from our Newtown store during our opening hours from Monday to Sunday.
Orders are generally ready for collection the next day however if you urgently need your order on the same day, you can give us a call to arrange that.
Fast Australian Shipping
In most cases, orders are picked, packed and collected by courier within 1-2 days.

Delivery times within Australia can vary from 1-7 days depending on how remote your location is.
International Shipping
Yes, we do ship internationally. If your country is not available from the shipping tab when you checkout, please contact us for a quote.
International delivery times vary depending on the country, again you can contact us directly to find out an estimate.
Returns & Exchanges
Can I Change My Mind?
Yes, you have 14 days to change your mind and exchange your item. Please note that we do not refund but will offer an exchange for something of equal or greater value.
If you purchased something online, you must cover the cost of return postage of the item and the cost of shipping the replacement item out to you.
Do You Accept Returns?
Yes, you can return an item within 14 days if you are dissatisfied with the item chosen for a full refund.
The item must be unopened and in new condition, unless upon opening you notice that it is damaged.
Please email us at crystalarcanainfo@gmail.com to discuss returns.