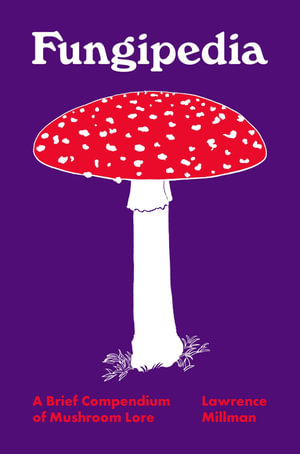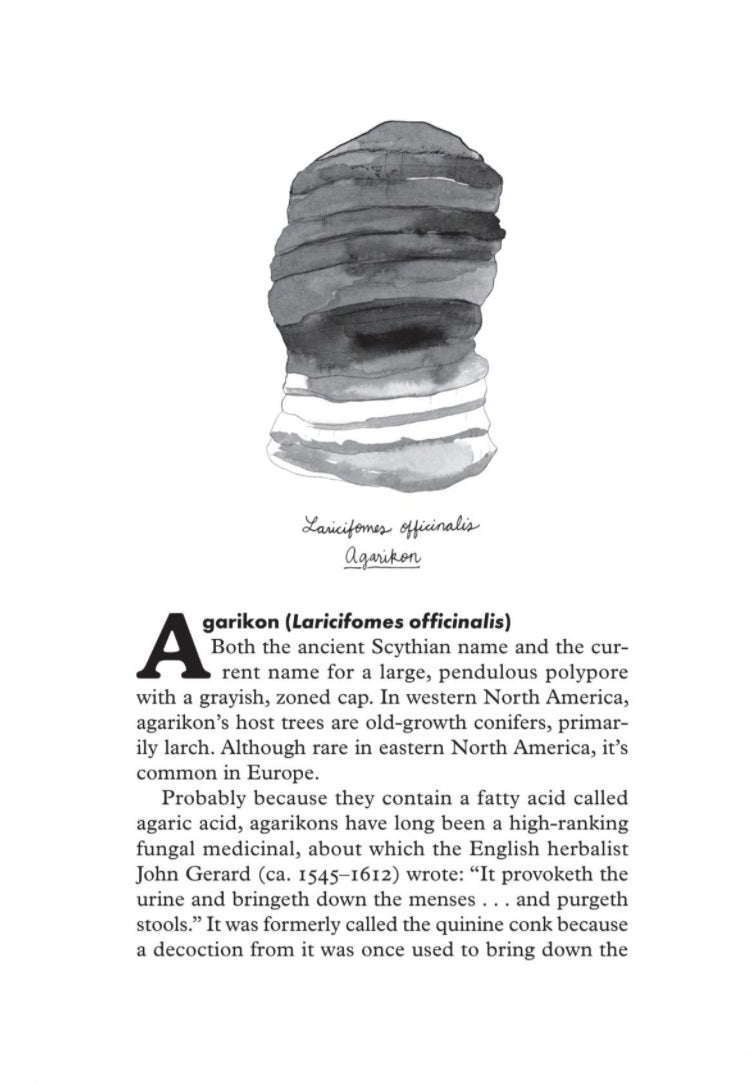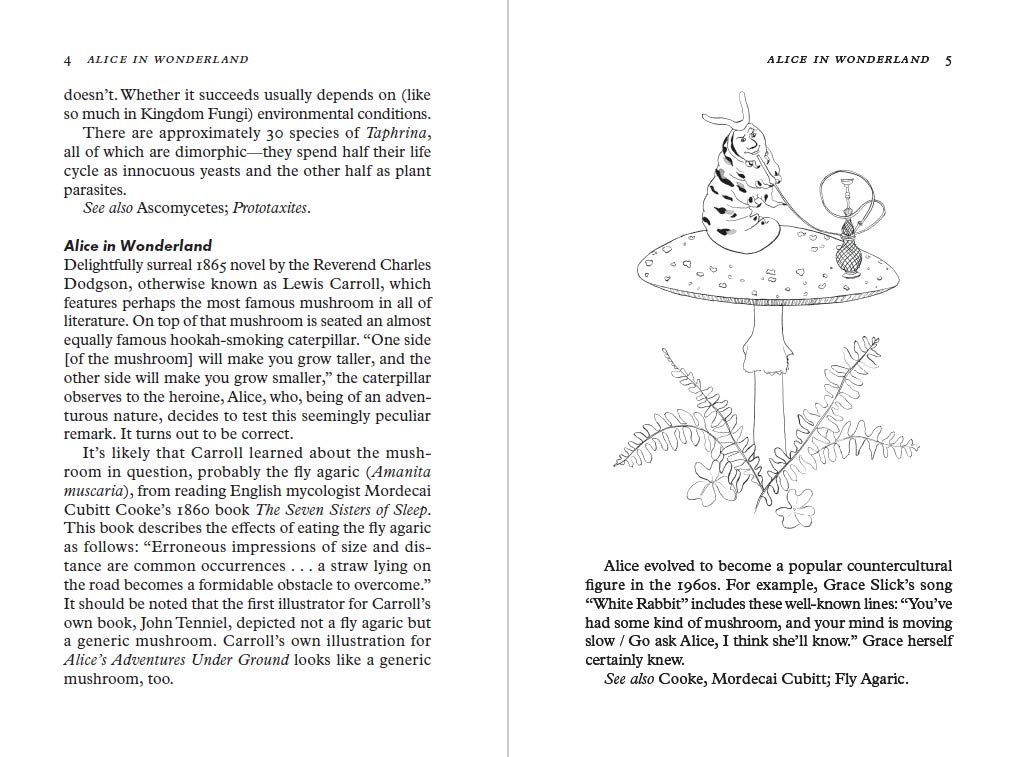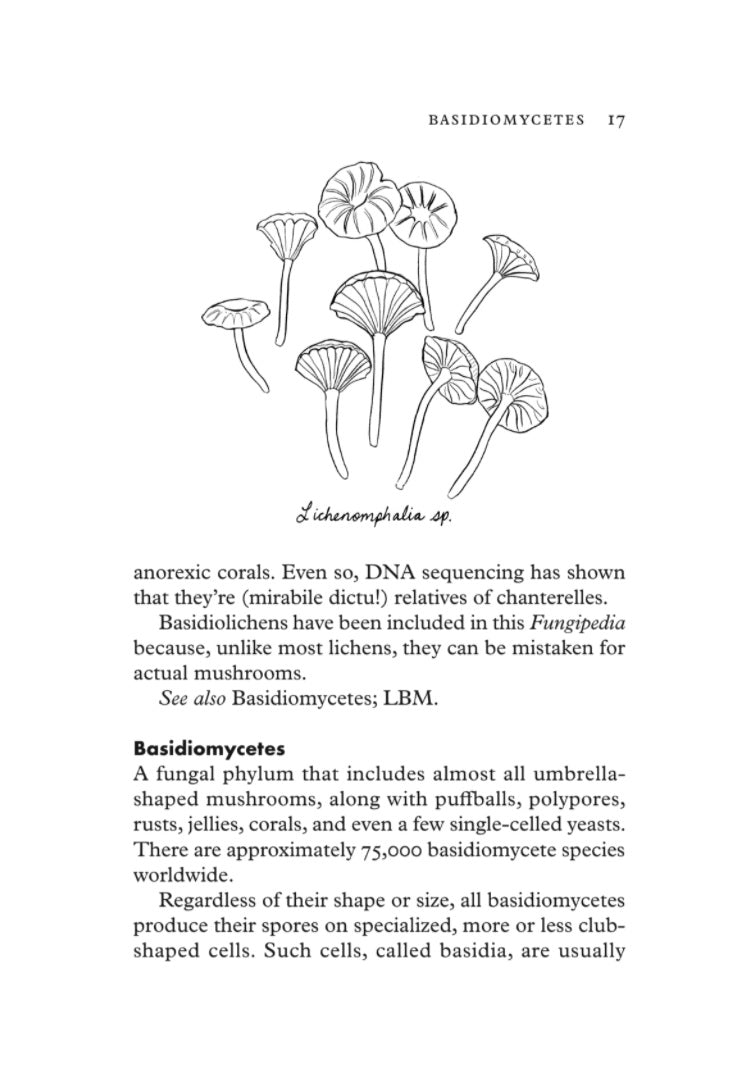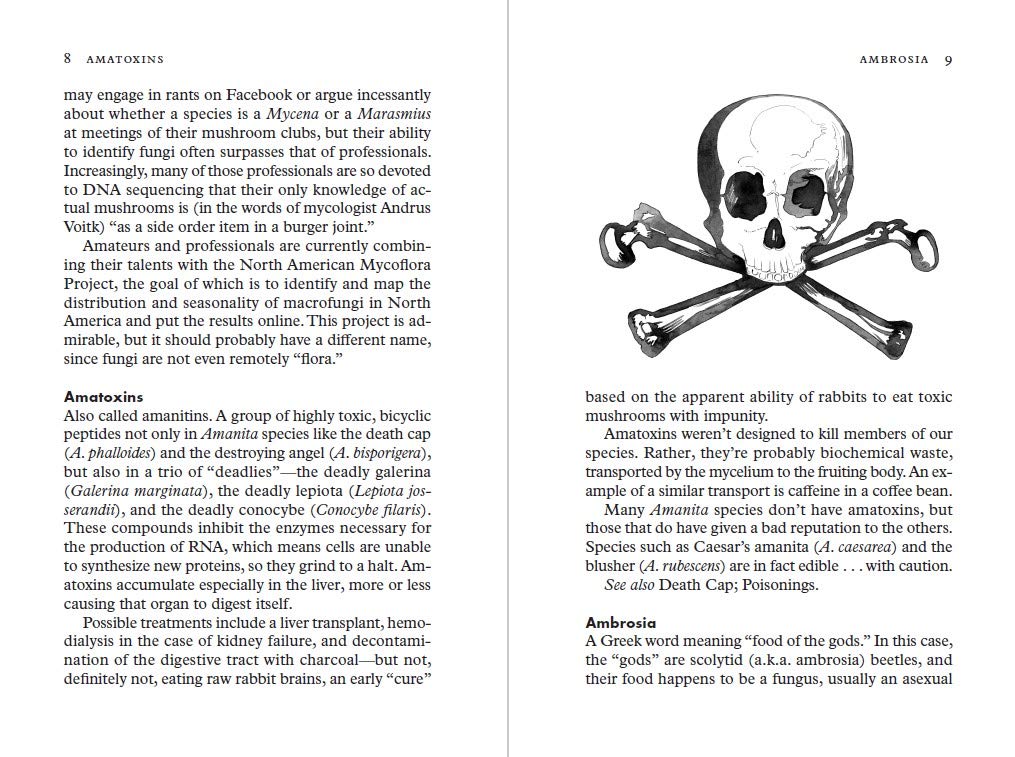 Fungipedia Book By Lawrence Millman
"This little book is big fun."-Michael Pollan

An illustrated mini-encyclopedia of fungal lore, from John Cage and Terence McKenna to mushroom sex and fairy rings
Fungipedia presents a delightful A-Z treasury of mushroom lore. With more than 180 entries-on topics as varied as Alice in Wonderland, chestnut blight, medicinal mushrooms, poisonings, Santa Claus, and waxy caps-this collection will transport both general readers and specialists into the remarkable universe of fungi.
Combining ecological, ethnographic, historical, and contemporary knowledge, author and mycologist Lawrence Millman discusses how mushrooms are much more closely related to humans than to plants, how they engage in sex, how insects farm them, and how certain species happily dine on leftover radiation, cockroach antennae, and dung. He explores the lives of individuals like African American scientist George Washington Carver, who specialized in crop diseases caused by fungi; Beatrix Potter, creator of Peter Rabbit, who was prevented from becoming a professional mycologist because she was a woman; and Gordon Wasson, a J. P. Morgan vice-president who almost single-handedly introduced the world to magic mushrooms. Millman considers why fungi are among the most significant organisms on our planet and how they are currently being affected by destructive human behavior, including climate change.
With charming drawings by artist and illustrator Amy Jean Porter, Fungipedia offers a treasure trove of scientific and cultural information. The world of mushrooms lies right at your door-be amazed!
Industry Reviews
"[Millman] illuminates some obscure corners of mycology for sure, but better, he brings a kind of feisty joyousness to the endeavor that makes the facts feel fresh. . . . As far as I am concerned, there can never be enough mushroom books out there. And I call this one a treasure."---Eugenia Bone, New York Mycological Society Newsletter
"It could best be described as a light, whimsical, yet extremely knowledgeable dip into the world of mycology. . . . Whether you are interested in fungi or not, I think this book will appeal." * Essex Birding *
"
I found this a delightful little book, a mini-encyclopaedia, hardback, and at just 4.5 x 6.75 ins,
easy to slip into a pocket and dip in and out of on a bus or metro journey. An ideal Christmas stocking-filler for both mycologists, whether "amateur" or "professional", and inquisitive naturalists.
" * IMA Fungus *
"This little handbook produced by Princeton University Press and authored by renowned mycologist Lawrence Millman, is a sort of 'all you ever wanted to know about mushrooms' work; and fascinating and helpful it is too."
---David Gascoigne,
Travels With Birds
"
Fungipedia
is a fun, fast-paced, fascinating, fungi foray formatted on facsimile foolscap (OK, that last one about it being printed on facsimile foolscap I just made up, but the paper is indeed quite nice)."
---Johannes E. Riutta,
The Well-read Naturalist
"An extraordinary treasure box for readers."
---Irmgard Krisai-Greilhuber,
Osterreiche Zeitschrift fuer Mykologie
"Charming, fact-filled, enjoyable read."
---Neville Davies,
Wild About Gwent
"A delightful little introduction to the world of fungi. . . . a whimsical 184-page A-Z miscellany that could be slipped into your back pocket . . . even seasoned mycologists will here find things to entertain and enlighten them." * Inquisitive Biologist *
"If your fungal forays have been limited to identifying toadstools, this A-Z of the fungal kingdom, written with profound knowledge and wry good humour, will be a revelation."
---Phil Gates,
BBC Wildlife
"A delightful collection of notes on a wide variety of mycologically related topics . . . . This is a book you can pick up for a few minutes, or get hooked into for an hour."
---Susan Kayser,
Fungus Friends
"The cultural encyclopedia of mushrooms that we need right now." * Literary Hub *
"Millman has come out with a delightful stocking stuffer. . . . Wit and good humor are never lacking, the whimsy doesn't belie the deep knowledge, and its diminutive size makes it useful, as well as readable."
---Art Goodtimes,
Montrose Mirror
"The author is a true snapper-up of unconsidered trifles, which he blends into erudite and cheery notes which will inform and entertain, amaze and (occasionally) repel you. . . . I have never laughed so much over a serious book. And I learned a lot too."
---Gillian Mawrey,
Historic Gardens Review
"This little book is big fun."
---Michael Pollan on Twitter,
---
Free shipping on orders over $100
Fungipedia Book By Lawrence Millman
Our Selection Process
Ethically Sourced
All of our products are sourced ethically from small businesses and family owned mines all over the world.
We do no support slave labour, unfair working conditions or unfair pay.
Hand Picked
All of our stones are hand picked for their quality, beauty, uniqueness and essense. It is extremely important for us to retain a personal touch in our business and not bulk buy in batches where we can't control the quality we receive.
We love what we do and this is our favourite part of the job!
High Quality
Quality is so important to us, we choose only the highest quality stones and are very transparent with you, the customer, about the quality and any imperfections.
Whilst we do our best to maintain this right down to our smallest tumbles and roughs, natural imperfections will occur and we trust that the universe will deliver you something that is meant for you.
Competitive Prices
We source all of our crystals direct from all over the world and this means that we can maintain our extremely affordable prices.
We maintain the same margin on all of our stones, regardless of popularity, trends or rare inclusions. If we buy it at a good price, we pass this on to you!
Shipping / Pick Up
Pick Up
Orders can be collected from our Newtown store during our opening hours from Monday to Sunday.
Orders are generally ready for collection the next day however if you urgently need your order on the same day, you can give us a call to arrange that.
Fast Australian Shipping
In most cases, orders are picked, packed and collected by courier within 1-2 days.

Delivery times within Australia can vary from 1-7 days depending on how remote your location is.
International Shipping
Yes, we do ship internationally. If your country is not available from the shipping tab when you checkout, please contact us for a quote.
International delivery times vary depending on the country, again you can contact us directly to find out an estimate.
Returns & Exchanges
Can I Change My Mind?
Yes, you have 14 days to change your mind and exchange your item. Please note that we do not refund but will offer an exchange for something of equal or greater value.
If you purchased something online, you must cover the cost of return postage of the item and the cost of shipping the replacement item out to you.
Do You Accept Returns?
Yes, you can return an item within 14 days if you are dissatisfied with the item chosen for a full refund.
The item must be unopened and in new condition, unless upon opening you notice that it is damaged.
Please email us at crystalarcanainfo@gmail.com to discuss returns.