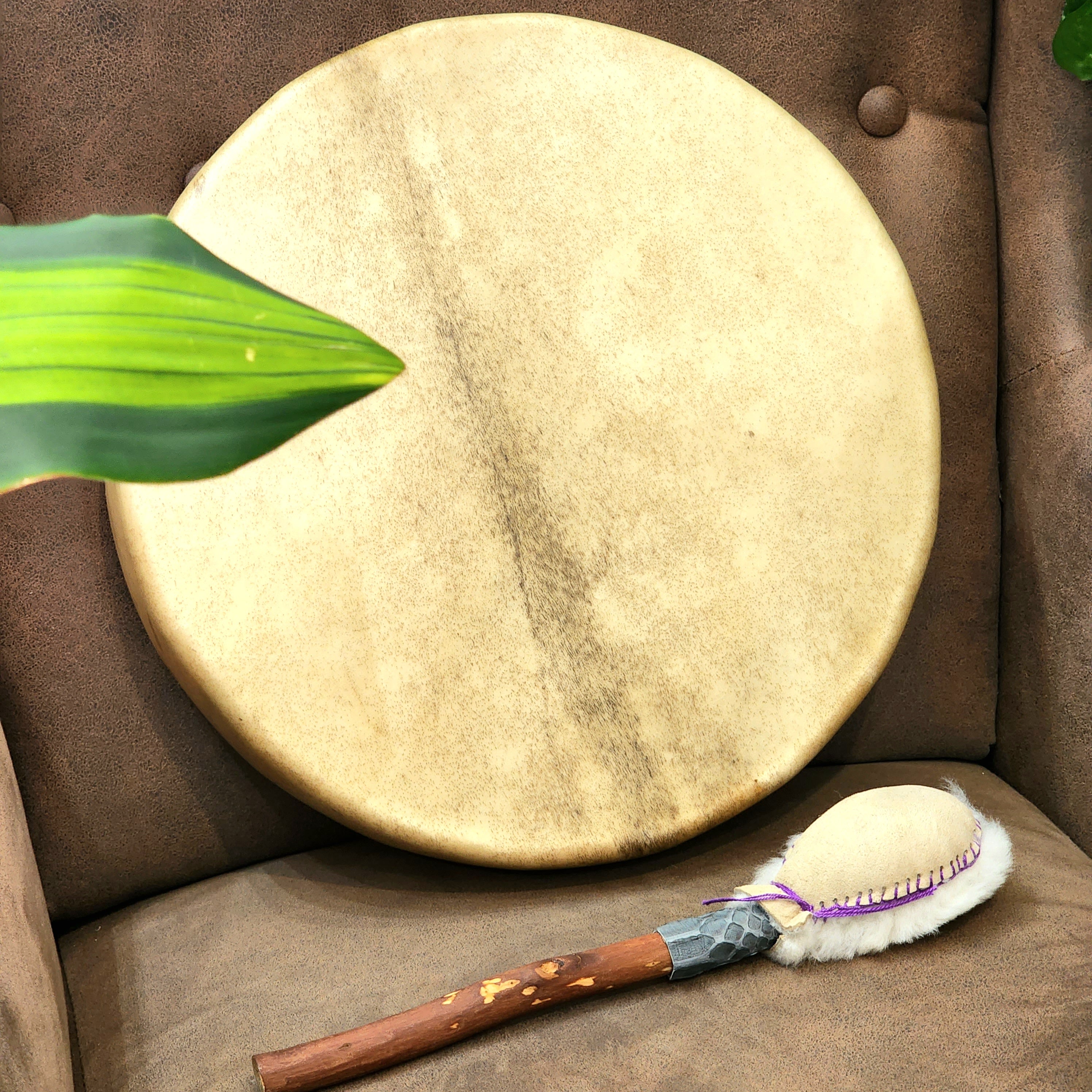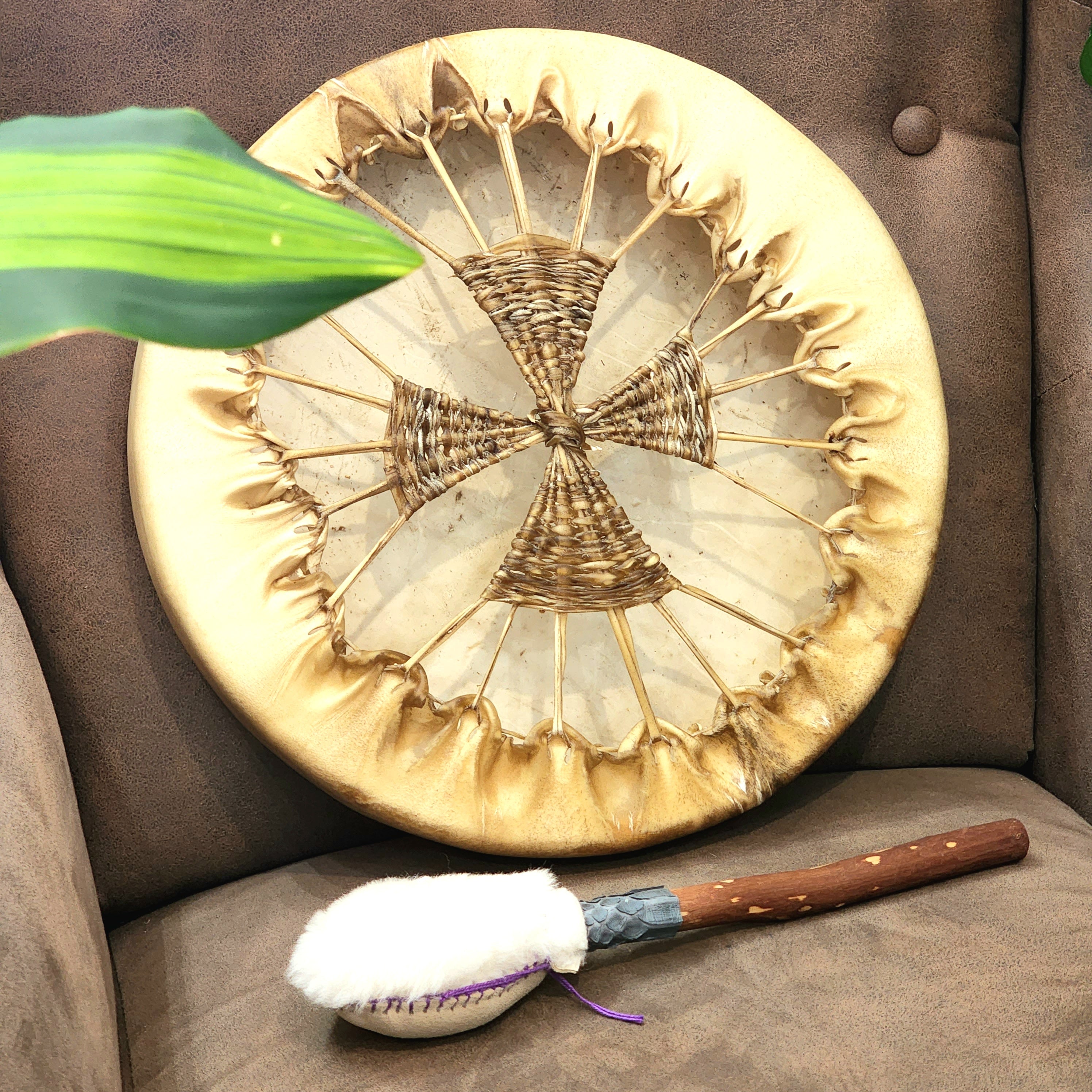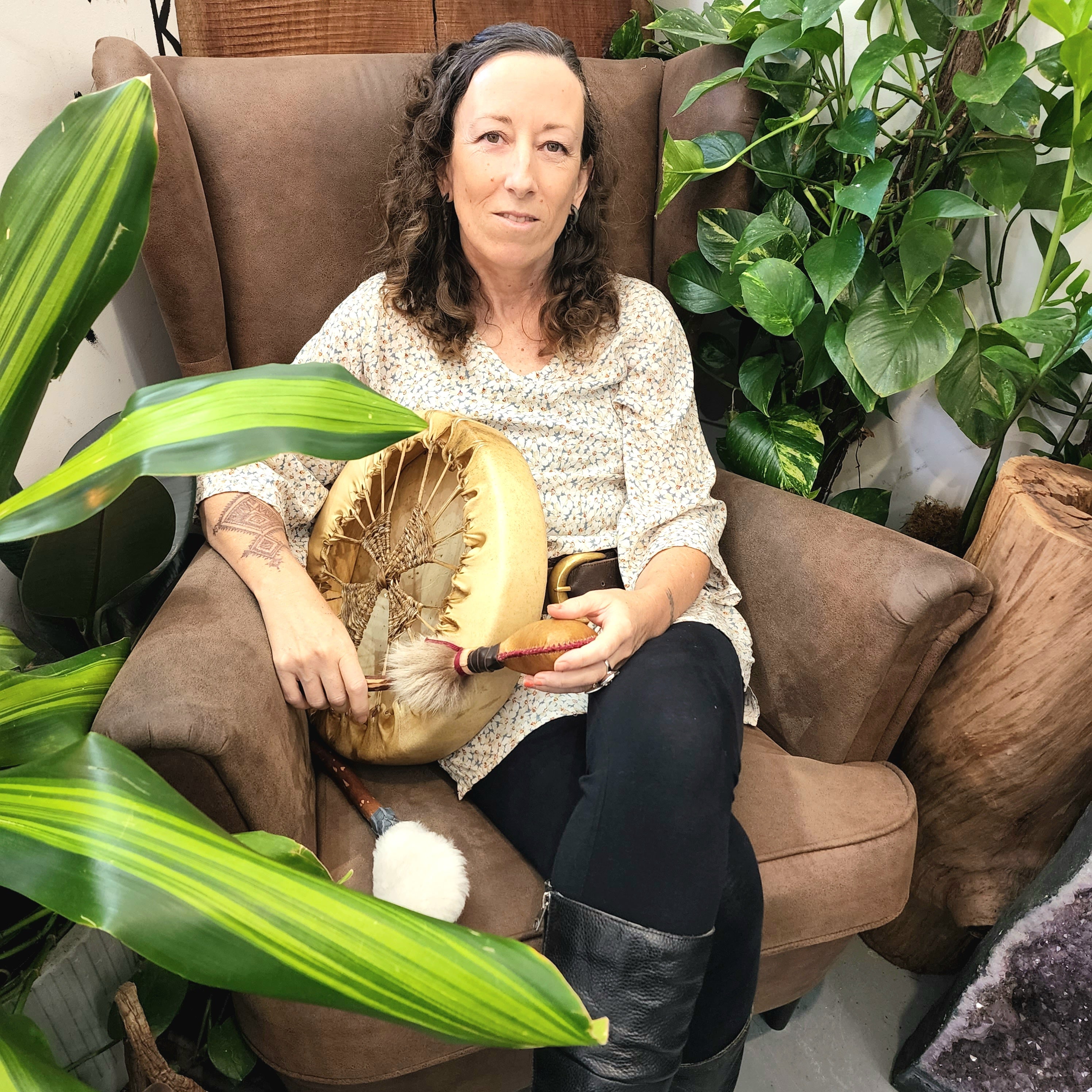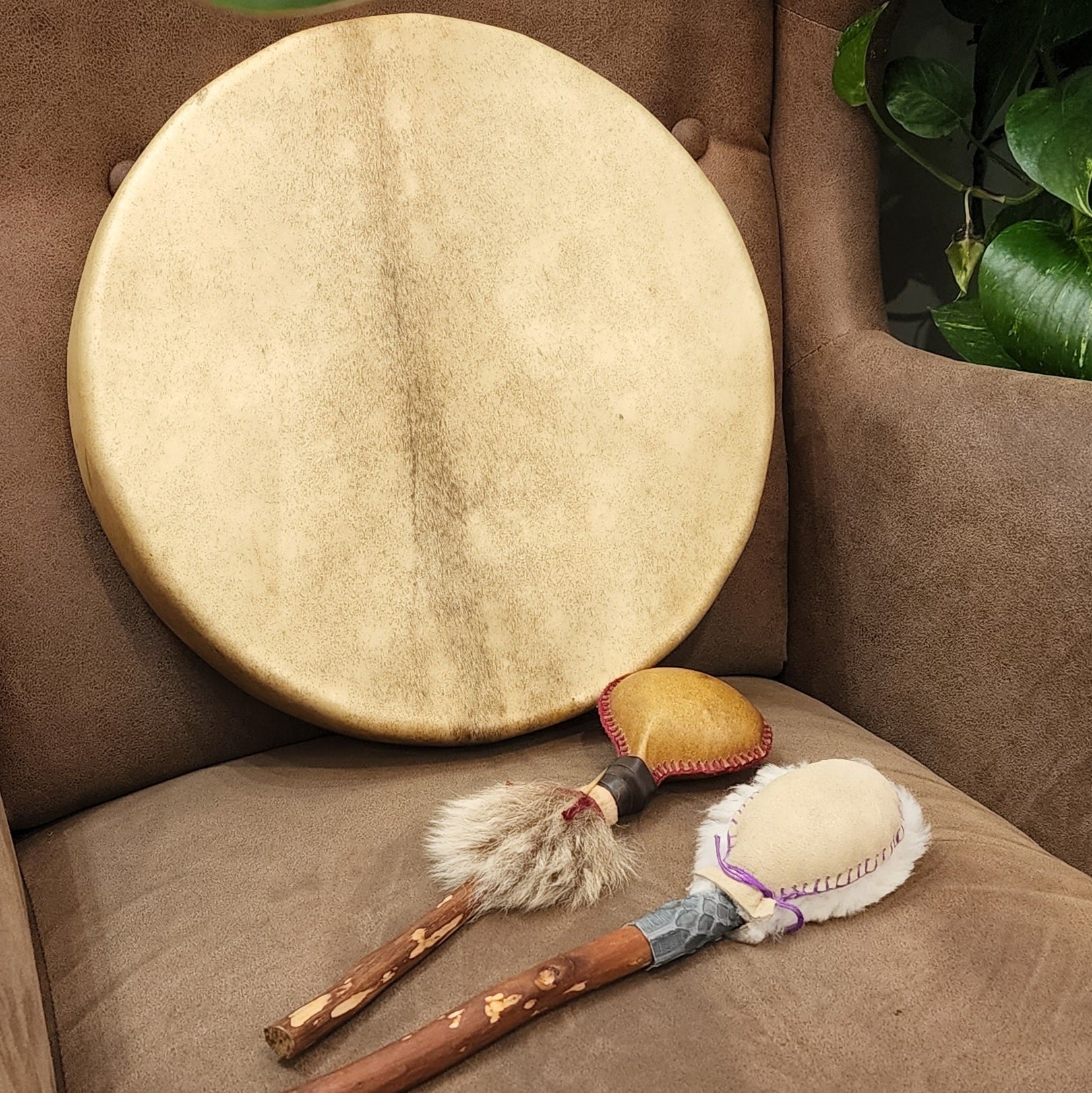 Deer Hide Shamanic Medicine Drum & Beater
Handcrafted and channeled Medicine Drum by Gypsy Artemis from Sacred Hunger
Made from ethically sourced Deer hide with Sheep wool and snake skin drum beater
Sustainable and environmentally friendly timber hoop
Our Handmade Medicine Drums are lovingly crafted and birthed by the skilled hands of Gypsy Artemis. Crafted from genuine deer hide, this expertly made drum possesses a deep connection to the spirit of the animal, evoking its graceful energy and strength.
Gypsy infuses her creations with reverence, ensuring that the essence of the deer is respected and honored in the making of these sacred instruments. When you play this drum, you're not just producing sound; you're inviting the spirit of the deer into your rhythm, fostering a deep sense of connection to the natural world.
Shamanic Drumming:
Drumming is one of the oldest forms of vibrational healing on this planet and drums and rattles have been used in shamanism from various cultures for thousands of years so it's no surprise that we are still drawn to hitting a drum whenever we get the chance to be playful!
It connects us with the natural pulse of life, our heartbeat, and the pulse of Mother Earth. Becoming one with our heart is deeply transformative. Shamanic drumming awakens your ability to commune with your inner self and spirit guides to retrieve information for your own healing. You need only journey within to find answers to any question.
Drumming creates a sacred space for meditation, shamanic journeying, and self-discovery, allowing you to enter a realm where you can find solace and guidance. The rhythm serves as a channel for your intentions and a conduit for the wisdom of the natural world.
It can be used for grounding, self-regulating and centering, for journeying to the spirit realms, for connecting with your inner self, or simply for creating a harmonious atmosphere during meditation or gatherings.
The Animal Medicine:
Deer are known for their gentle and graceful nature. In Native American and indigenous traditions, the deer is often associated with qualities such as sensitivity, intuition, and connection to the natural world.
Sheep are often associated with traits like purity, innocence, sacrifice, protection, warmth, fertility and abundance.
Snake is a potent symbol in many cultures and is often associated with transformation, regeneration, new beginnings, intuition, awareness, cycles and healing.

Why choose a medicine drum? The answer is simple. In our fast-paced, modern world, we often find ourselves disconnected from the Earth's rhythms and the healing energies that surround us. The medicine drum is a powerful tool to rekindle that connection. It provides an opportunity to attune your spirit with the natural world and the ancient wisdom that resides within it.
---
Free shipping on orders over $100
Deer Hide Shamanic Medicine Drum & Beater
Our Selection Process
Ethically Sourced
All of our products are sourced ethically from small businesses and family owned mines all over the world.
We do no support slave labour, unfair working conditions or unfair pay.
Hand Picked
All of our stones are hand picked for their quality, beauty, uniqueness and essense. It is extremely important for us to retain a personal touch in our business and not bulk buy in batches where we can't control the quality we receive.
We love what we do and this is our favourite part of the job!
High Quality
Quality is so important to us, we choose only the highest quality stones and are very transparent with you, the customer, about the quality and any imperfections.
Whilst we do our best to maintain this right down to our smallest tumbles and roughs, natural imperfections will occur and we trust that the universe will deliver you something that is meant for you.
Competitive Prices
We source all of our crystals direct from all over the world and this means that we can maintain our extremely affordable prices.
We maintain the same margin on all of our stones, regardless of popularity, trends or rare inclusions. If we buy it at a good price, we pass this on to you!
Shipping / Pick Up
Pick Up
Orders can be collected from our Newtown store during our opening hours from Monday to Sunday.
Orders are generally ready for collection the next day however if you urgently need your order on the same day, you can give us a call to arrange that.
Fast Australian Shipping
In most cases, orders are picked, packed and collected by courier within 1-2 days.

Delivery times within Australia can vary from 1-7 days depending on how remote your location is.
International Shipping
Yes, we do ship internationally. If your country is not available from the shipping tab when you checkout, please contact us for a quote.
International delivery times vary depending on the country, again you can contact us directly to find out an estimate.
Returns & Exchanges
Can I Change My Mind?
Yes, you have 14 days to change your mind and exchange your item. Please note that we do not refund but will offer an exchange for something of equal or greater value.
If you purchased something online, you must cover the cost of return postage of the item and the cost of shipping the replacement item out to you.
Do You Accept Returns?
Yes, you can return an item within 14 days if you are dissatisfied with the item chosen for a full refund.
The item must be unopened and in new condition, unless upon opening you notice that it is damaged.
Please email us at crystalarcanainfo@gmail.com to discuss returns.