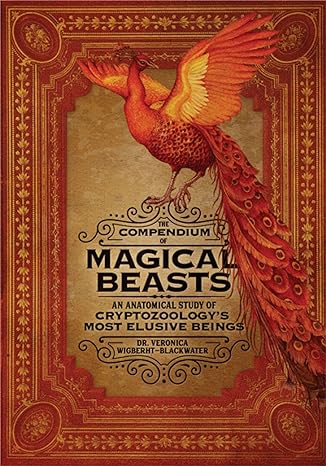 Compendium of Magical Beasts: An Anatomical Study of Cryptozoology's Most Elusive Beings
THE COMPENDIUM OF MAGICAL BEASTS
 is a definitive field guide that explores the anatomy of mythology's most elusive creatures, compiling the findings of controversial early twentieth century cryptozoologist, feminist, and explorer Dr. Veronica Wigberht-Blackwater. Approaching the fantastic with a scientific eye, Dr. Veronica explains the history, habits, and biology of each creature's existence with equal attention to detail. Her research is accompanied by stunning scientific illustrations of each specimen's anatomy, providing a comprehensive view of creatures most often dismissed as pure fantasy.
Combining biological fact with folklore, cultural studies, and history, this volume is crucial to science both fringe and mainstream. Locked in a dusty attic for almost a century, Dr. Wigberht-Blackwater's trailblazing work was recently discovered by writer Melissa Brinks, who spent months transcribing the journals she found. Brinks joined forces with artist Lily Seika Jones to digitize the doctor's amazingly detailed anatomical diagrams in order to share these revolutionary findings with the world for the first time.
The Bestiary: Mermaid, Unicorn, Wild Man, Gnome, Werewolf, Troll, Fairy, Jackalope, Winged Horse, Centaur, Minotaur, Vampire, Dragon, Sea Monsters/Loch Ness/Kraken, Goblin, Sphinx, Phoenix, Harpy, Cyclops, Banshee, Incubus/Succubus, Nymph, Ghoul, Selkie, Kelpie
---
Free shipping on orders over $100
Compendium of Magical Beasts: An Anatomical Study of Cryptozoology's Most Elusive Beings
Our Selection Process
Ethically Sourced
All of our products are sourced ethically from small businesses and family owned mines all over the world.
We do no support slave labour, unfair working conditions or unfair pay.
Hand Picked
All of our stones are hand picked for their quality, beauty, uniqueness and essense. It is extremely important for us to retain a personal touch in our business and not bulk buy in batches where we can't control the quality we receive.
We love what we do and this is our favourite part of the job!
High Quality
Quality is so important to us, we choose only the highest quality stones and are very transparent with you, the customer, about the quality and any imperfections.
Whilst we do our best to maintain this right down to our smallest tumbles and roughs, natural imperfections will occur and we trust that the universe will deliver you something that is meant for you.
Competitive Prices
We source all of our crystals direct from all over the world and this means that we can maintain our extremely affordable prices.
We maintain the same margin on all of our stones, regardless of popularity, trends or rare inclusions. If we buy it at a good price, we pass this on to you!
Shipping / Pick Up
Pick Up
Orders can be collected from our Newtown store during our opening hours from Monday to Sunday.
Orders are generally ready for collection the next day however if you urgently need your order on the same day, you can give us a call to arrange that.
Fast Australian Shipping
In most cases, orders are picked, packed and collected by courier within 1-2 days.

Delivery times within Australia can vary from 1-7 days depending on how remote your location is.
International Shipping
Yes, we do ship internationally. If your country is not available from the shipping tab when you checkout, please contact us for a quote.
International delivery times vary depending on the country, again you can contact us directly to find out an estimate.
Returns & Exchanges
Can I Change My Mind?
Yes, you have 14 days to change your mind and exchange your item. Please note that we do not refund but will offer an exchange for something of equal or greater value.
If you purchased something online, you must cover the cost of return postage of the item and the cost of shipping the replacement item out to you.
Do You Accept Returns?
Yes, you can return an item within 14 days if you are dissatisfied with the item chosen for a full refund.
The item must be unopened and in new condition, unless upon opening you notice that it is damaged.
Please email us at crystalarcanainfo@gmail.com to discuss returns.