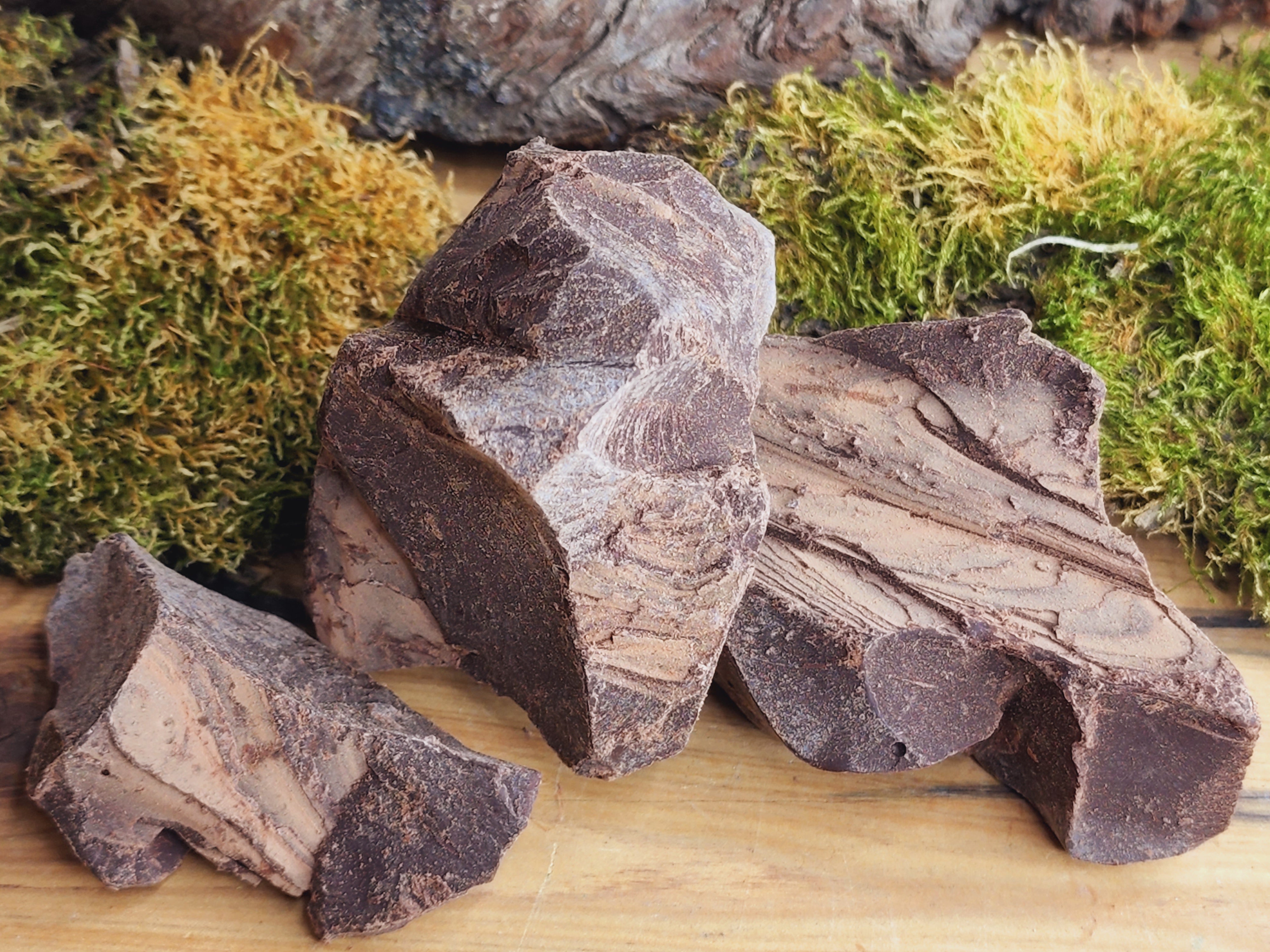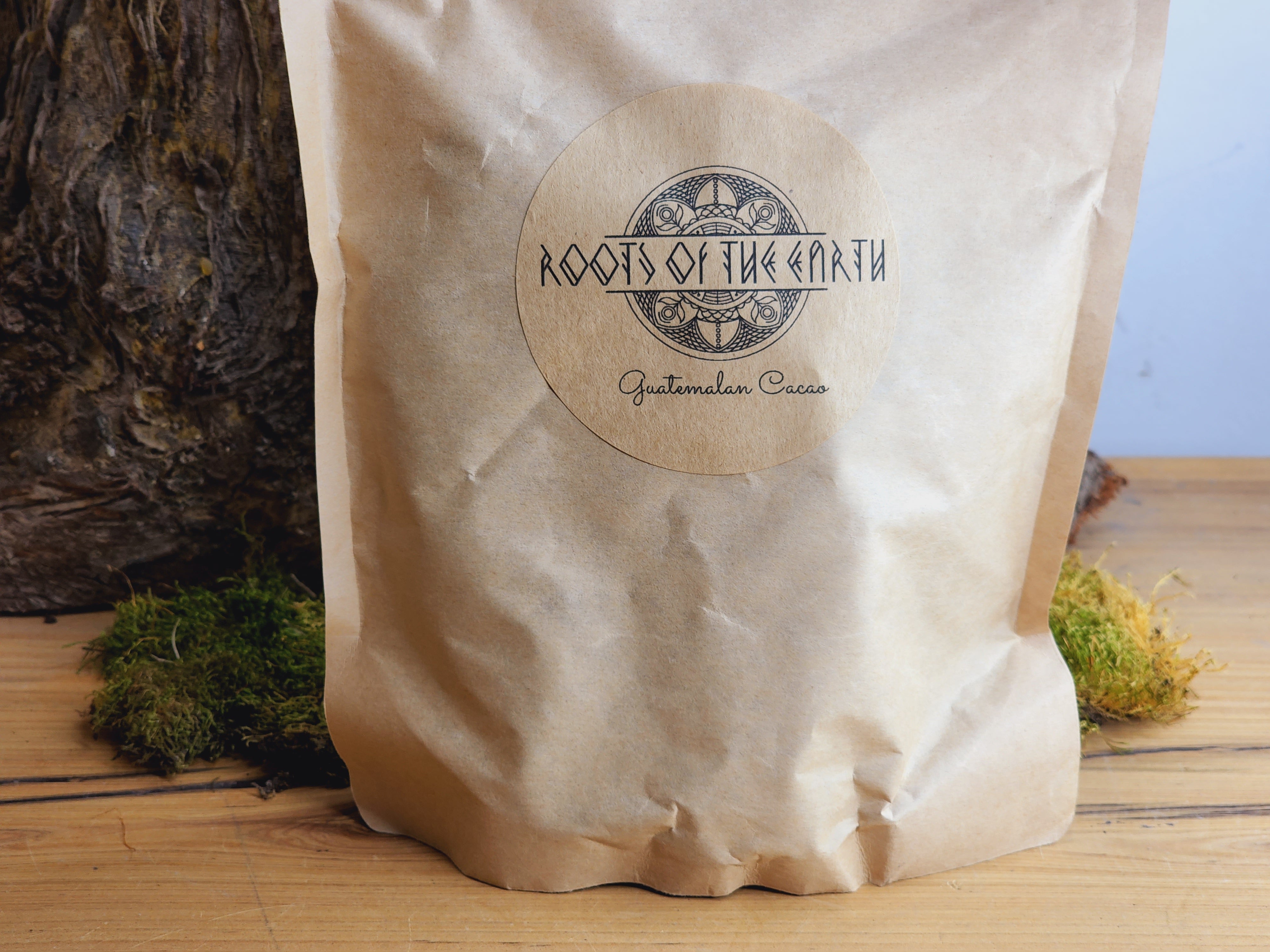 Ceremonial Cacao - Roots Of The Earth
Approximate weight: 440g
Serving size: 20-40g (Note: do not exceed 40g per serve per day as it can bring on side effects of migraines and nausea, start small and increase your serve to find your perfect amount.)

Servings per pack: 11-22 serves


About Ceremonial Cacao
It has become more recognised than ever that nature holds the answers to many medicinal secrets and one such plant medicine that is often overlooked or not so talked about is cacao, the heart-opening food of the gods. Originating from the Amazon Basin region, it has been used for thousands of years by the Olmecs, Mayans and Aztecs! The Cacao Bean was so revered that the Aztecs favoured cacao beans over gold as their currency and wealth and Nestle saw it's value in the 1800's when they produced their first powdered milk and thus chocolate bars were born, and the industry began to boom commercially.

When you drink ceremonial grade cacao and prepare it with intention, it is a purely magical experience that makes you feel grounded, softer and more creative. Some even feel a drunken state of being that intensifies any practice that follows.


What Makes Ceremonial Cacao Different?
Ceremonial Cacao is a super food that is pure roasted cacao paste. It is unrefined 100% cacao and therefore contains all the medicinal benefits that have been removed in processing and heating cacao to a powder or chocolate bar.

Manufactured from a single ingredient, cacao paste is simply 100% cacao beans. They are first fermented, then lightly roasted or sun-dried, and ground down into the a paste that cools and solidifies. Nothing is taken out or added during this process, making it pure.
Cocoa powder is raw cacao that's been roasted at high temperatures. This processing changes the molecular structure of the chocolate, lowering the nutritional value by up to 90%!! It also removes any enzyme content such as antioxidants and any of the medicinal benefits listed below.
Cacao powders and other available products on the market are much purer however when buying your ceremonial grade cacao, you are looking for 100% pure cacao with no additives. Any lower percentage cacao has been blended with something else, usually sugars and milk powders to make it less bitter.

It is also recommended to find cacao that is marketed as ceremonial grade as this is harvested with intention and sourced from wild cacao and that will be the most authentically heart opening cacao.
What are the Medicinal Benefits of Cacao?
It's a great source of monounsaturated fat, cholesterol-free saturated fat, vitamins, minerals, fiber, natural carbohydrates and protein.
It's high in Magnesium, Iron, Copper, Phosphorus and many more minerals.
Low in sugar, High in good fats and essential dietary fiber.
Contains more Calcium than cow's milk and is consumed with the need for milk.
Up to 40 x more antioxidants than Blueberries!
Long term cacao ingestion appears to lead to an increased resistance to UV- induced skin redness. 10 healthy women taking just one dose of flavanol rich cacao was found to enhance dermal blood flow and elevate oxygen saturation of hemoglobin just 2 hours after consumption. A two-week study found higher levels of skin density, skin hydration and skin thickness with decreased skin roughness.
Psychological effects:
Theobromine - Similar to caffeine but instead of being a nervous system stimulant like coffee, theobromine dilates the cardiovascular system that results in opening up the blood vessels and a sense of alertness and relaxation at the same time.
But beware, having a higher dose of ceremonial cacao later in the evening can keep you alert for hours and you might struggle to fall asleep even if your body is tired! I generally try to have less in the evenings or consume it earlier so see how your body responds before having a full dose.
Phenylethylamine - Is found in abundance within cacao when it hasn't been heated. PEAs are a major class of chemicals that we produce in our bodies when we fall in love. PEAs also play a role in increasing focus and attention.
A group of biologically active constituents have been identified in cacao and appear to be related to anandamine, the "internal bliss" chemical, which is a cannabinoid endorphin that the human body naturally produces after exercise.
Tryptophan- Cacao powder can contain between 0.2 – 0.5 percent tryptophan. Tryptophan is an amino acid essential for the production of serotonin, our primary neurotransmitter which helps us build up our stress defense shield and makes us feel good.
Contraindications:
It should be noted that as Cacao is a stimulant, there are contraindications to be aware of. Please consult with your doctor before attending if you are concerned about any of the following.
Cacao is a vasodilator and lowers blood pressure. If you have low blood pressure, serious heart conditions or epilepsy you should consult your doctor before consuming.
Certain anti-depressants are worth extra consideration. MAOI based antidepressants are contraindicated with the tyramine in chocolate, so a larger dose of cacao is not recommended. However, side effects could include more serious headache and nausea, so make sure to check medications first.
Additionally, there has been some concern with larger doses of cacao and SSRI type anti-depressants. Specifically, the tryptophan, a type of MAOI which is a precursor to serotonin has been cited by some as a possible contraindication.
The Goddess of Cacao - IxCacao
When we drink Cacao, we are invoking the goddess of cacao known as IxCacao, the Goddess of Abundance and Chocolate. There are many versions of her story but the main one is that she was a Goddess of Abundance & Agriculture who turned to chocolate to comfort the human sacrifices the Aztecs made on their climb to their death. 
The Goddess reminds us to be humble and to recognise that abundance exists all around us. In this world of want over need, we often forget that we have everything we need around us. She asks us to reflect on everything we are, all that we have achieved and the love that surrounds us so abundantly when we look for it.
---
Free shipping on orders over $100
Ceremonial Cacao - Roots Of The Earth
Our Selection Process
Ethically Sourced
All of our products are sourced ethically from small businesses and family owned mines all over the world.
We do no support slave labour, unfair working conditions or unfair pay.
Hand Picked
All of our stones are hand picked for their quality, beauty, uniqueness and essense. It is extremely important for us to retain a personal touch in our business and not bulk buy in batches where we can't control the quality we receive.
We love what we do and this is our favourite part of the job!
High Quality
Quality is so important to us, we choose only the highest quality stones and are very transparent with you, the customer, about the quality and any imperfections.
Whilst we do our best to maintain this right down to our smallest tumbles and roughs, natural imperfections will occur and we trust that the universe will deliver you something that is meant for you.
Competitive Prices
We source all of our crystals direct from all over the world and this means that we can maintain our extremely affordable prices.
We maintain the same margin on all of our stones, regardless of popularity, trends or rare inclusions. If we buy it at a good price, we pass this on to you!
Shipping / Pick Up
Pick Up
Orders can be collected from our Newtown store during our opening hours from Monday to Sunday.
Orders are generally ready for collection the next day however if you urgently need your order on the same day, you can give us a call to arrange that.
Fast Australian Shipping
In most cases, orders are picked, packed and collected by courier within 1-2 days.

Delivery times within Australia can vary from 1-7 days depending on how remote your location is.
International Shipping
Yes, we do ship internationally. If your country is not available from the shipping tab when you checkout, please contact us for a quote.
International delivery times vary depending on the country, again you can contact us directly to find out an estimate.
Returns & Exchanges
Can I Change My Mind?
Yes, you have 14 days to change your mind and exchange your item. Please note that we do not refund but will offer an exchange for something of equal or greater value.
If you purchased something online, you must cover the cost of return postage of the item and the cost of shipping the replacement item out to you.
Do You Accept Returns?
Yes, you can return an item within 14 days if you are dissatisfied with the item chosen for a full refund.
The item must be unopened and in new condition, unless upon opening you notice that it is damaged.
Please email us at crystalarcanainfo@gmail.com to discuss returns.