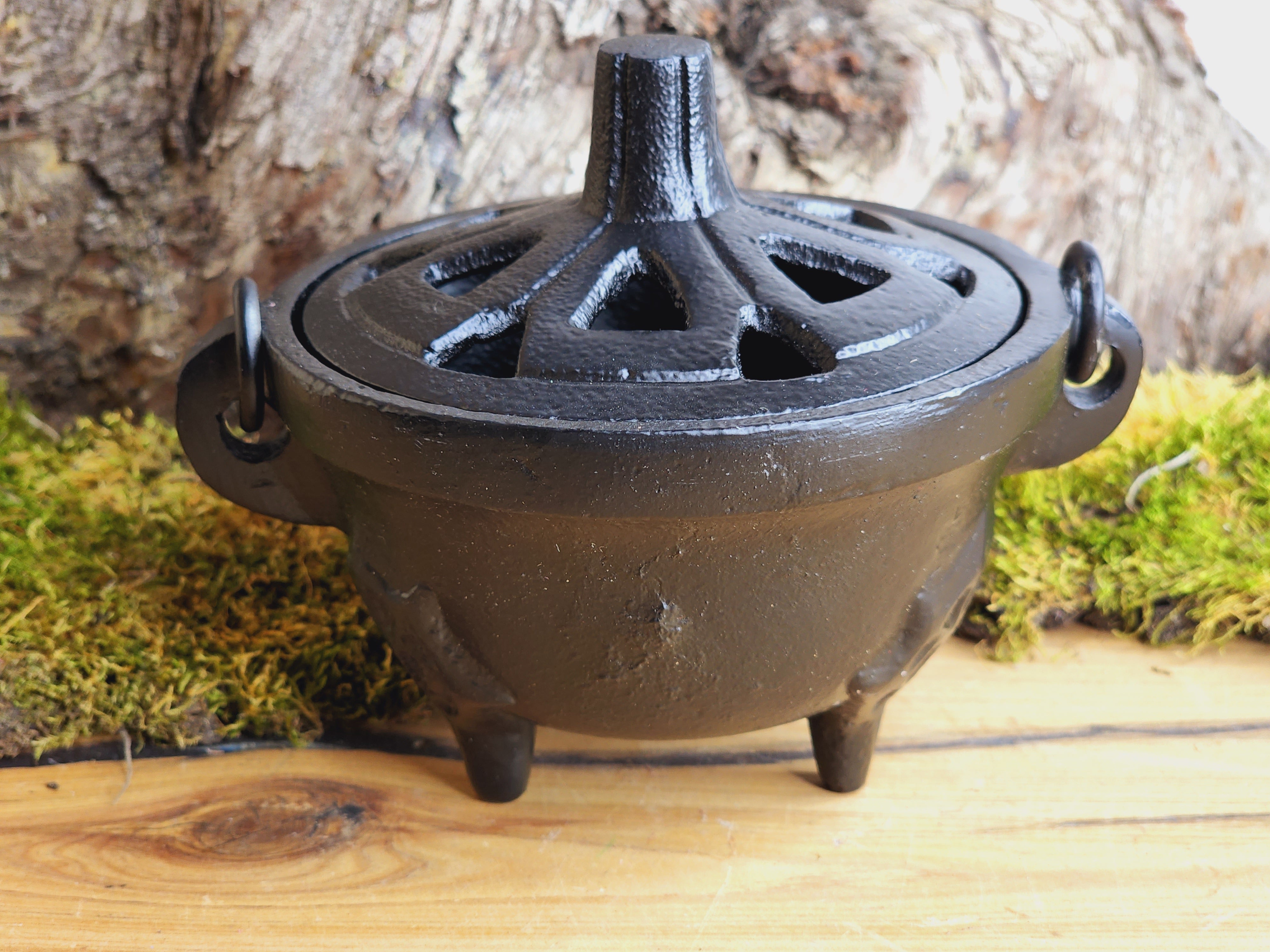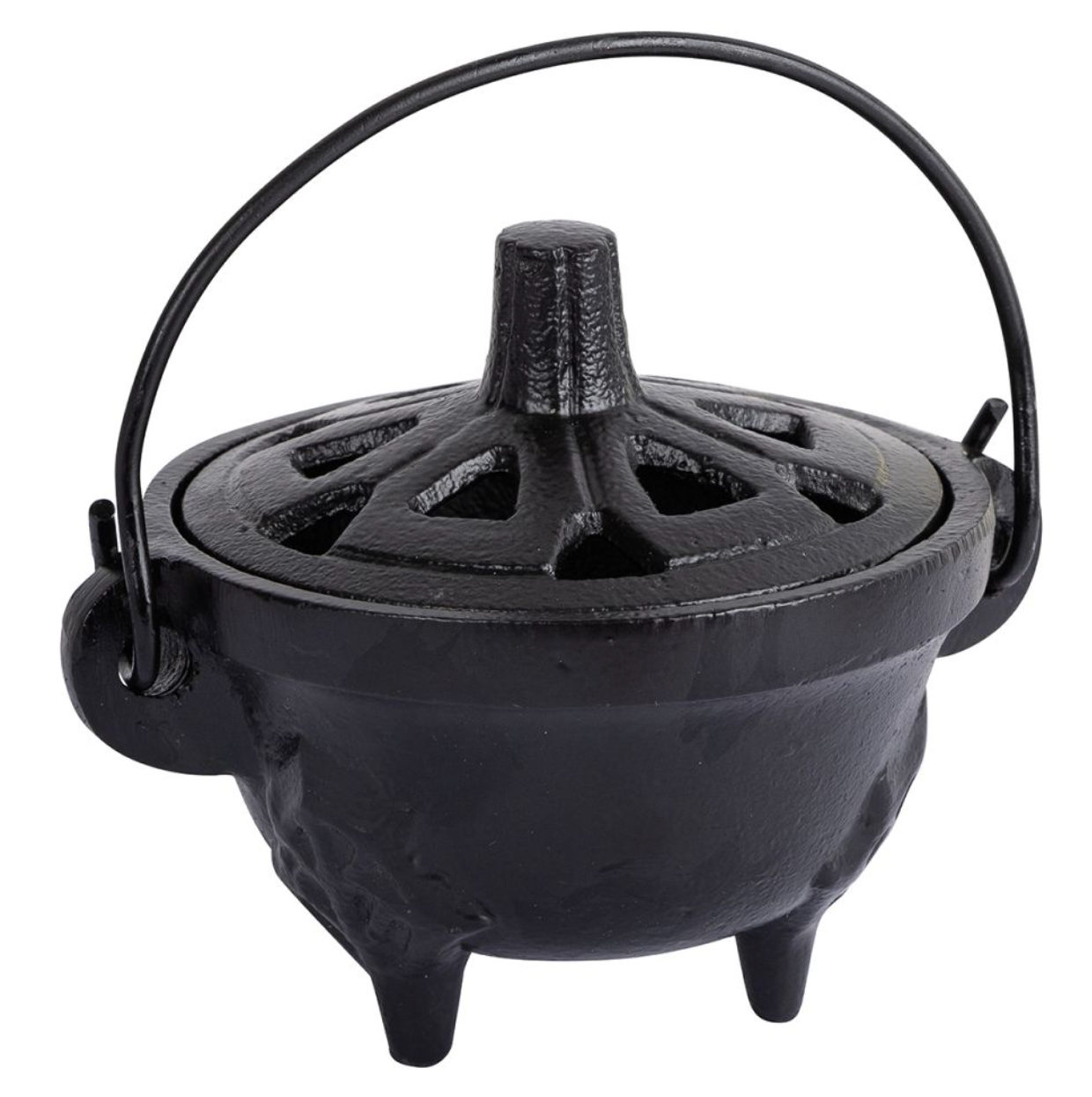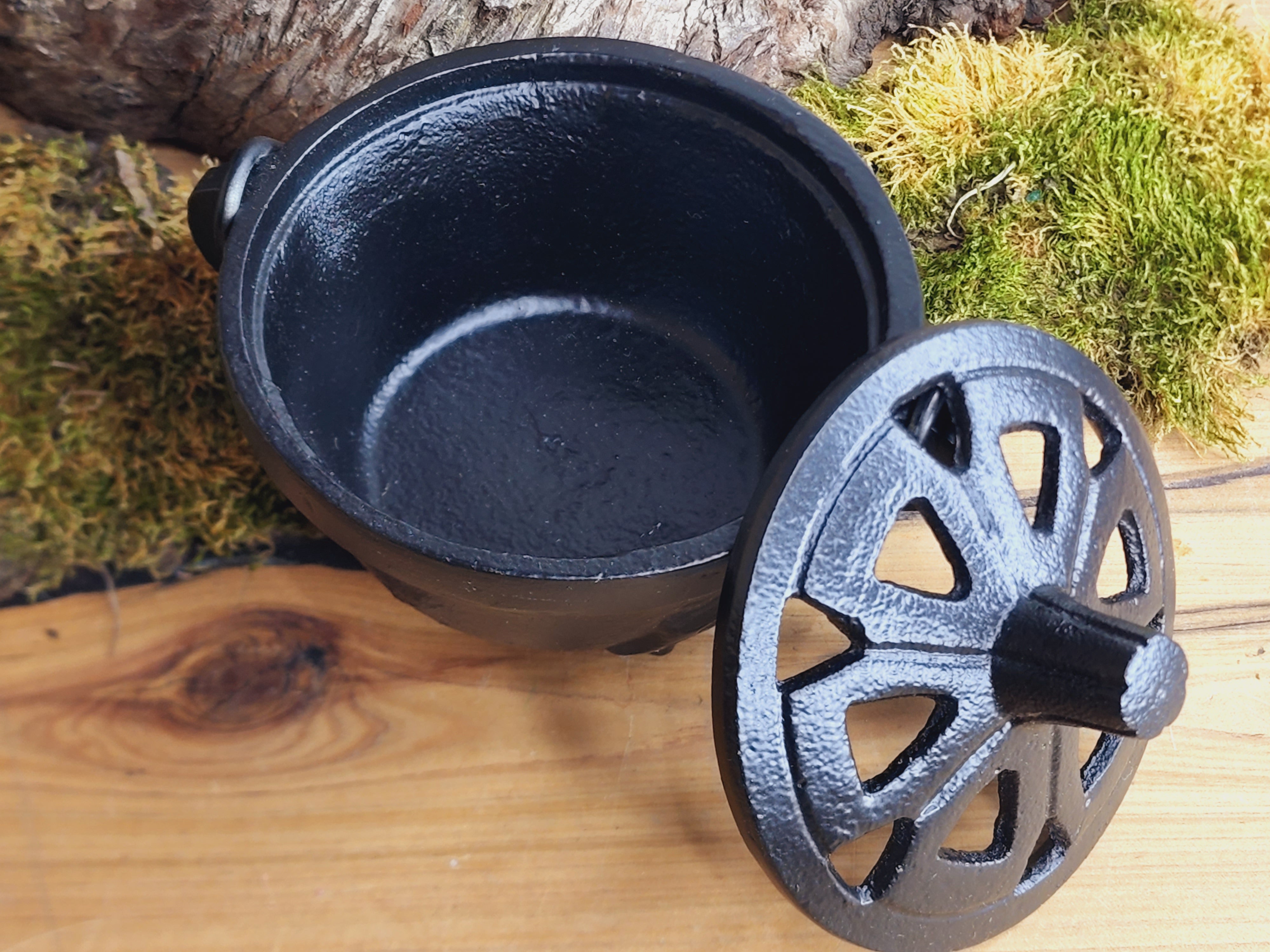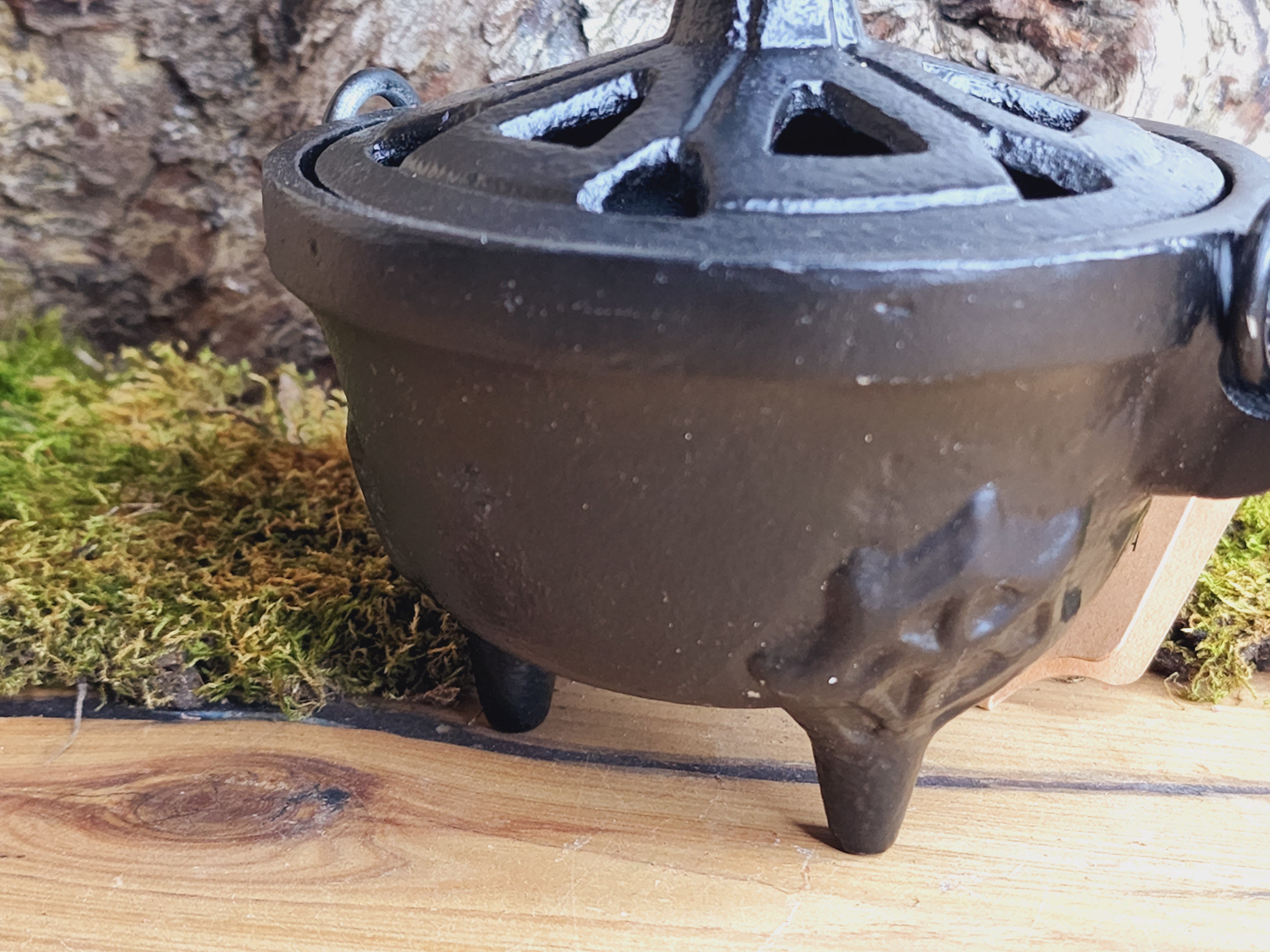 Cauldron Cast Iron 10cm - Open Lid
Style: Cast Iron open lid with web styled legs
Use For: Burning loose incense, spell work, altar display / storage
Material: Cast Iron
Size: 10cm
The cauldron is a symbol of rebirth therefore represent the female energy and will often be viewed as the womb.
The Cauldron in Germanic and Norse: It is said in the folklore of the Norse, that every night, Andhrímnir slaughters the beast Sæhrímnir and prepares it in his cauldron, Eldhrimnir for the Gods and heroes to feast upon in Valhalla. The name Eldhrimnir means "sooty black from the fire".
So you want a cauldron but aren't sure what to do with it? or want to learn more about it?
Here are six easy ways to use your cauldron including instructions on loose leaf incense burning.
1. Use it on your Altar
Fill it with trinkets that are meaning for or useful to you at this point in time. For example; Are you seeking love and prosperity? Perhaps combine rose quartz, pyrite and kambaba jasper in your cauldron, put the lid on, and let the vibrations stew a while!
2. To burn loose leaf incense
Tools needed:
1 Charcoal Tablet
1 Heatsafe Dish
1 Lighter/Matches
1 Set of Tongs
1-5 Incense Blends
Sand and/or Ash
Safety precautions:
Always ensure the cauldron is in a heat and fire safe location before lighting the fire and never leave it unattended.
Please also be aware of purchasing charcoal tablets that are appropriate for incense burning methods as inhaling fumes from the wrong kind of charcoal tablets can be very dangerous.
Instructions:
Begin by placing at least 2 inches of sand and/or ash at the bottom of your heatsafe dish. Do not overlook this step as it's important to keep your charcoal tablet properly insulated.
Using the tongs, pick up your charcoal tablet and using your lighter, ignite one side of the charcoal tablet, then work the flame to the middle, ending on the opposite side. Your charcoal tablet will self-ignite the moment fire touches it, so it will begin making crackling, popping sounds. Place it on top of the sand/ash.
Wait at least five minutes for it to burn and turn a light grayish hue before placing any incense on top of it.
All you have to do is carefully pinch some loose resin and/or herbs and sprinkle it directly on top of your charcoal tablet (I like to use tongs for this as well) and the incense will begin to immediately start burning and producing smoke.
The charcoal and herbs will eventually burn down to ash (approx. 45mins later) and you can either refresh this once it's cooled with new sand/ash or you can mix it in with the base sand/ash.
3. Fire Magick!
Use your cauldron as a mini fire pit and write down intentions of plastic free paper, parchment or bay leaves.
As you toss your intention into the flame, imagine it being transmuted into pure light energy, waiting for the perfect moment to be manifested into the material realm.
You can also use it for potions and other spell work such as water scrying.
4. Create Black Salt for spell work
Black salts are commonly used for breaking hexes, warding off negative energy and creating both psychic and physical boundaries that shall not be broken.
Using a ratio of 2 parts ash and 1 part salt, Loosen the ash that is left at the bottom of the bowl, and start to stir in salt. Continue to stir while thinking of any intentions you may have for the salt. You can bottle the salt or use it in ritual immediately.
5. Create moon water
On any night that feels right or just during a major moon phase or more commonly a full moon, you can use your cauldron as a vessel to harness the moons energy.
6. As a tool in divination
You may like to use your cauldron as a portable vessel for readings.
Adding various stones, herbs and symbols and setting it on the middle of your table to amplify your reading.
Most importantly, enjoy!
---
Free shipping on orders over $100
Cauldron Cast Iron 10cm - Open Lid
Our Selection Process
Ethically Sourced
All of our products are sourced ethically from small businesses and family owned mines all over the world.
We do no support slave labour, unfair working conditions or unfair pay.
Hand Picked
All of our stones are hand picked for their quality, beauty, uniqueness and essense. It is extremely important for us to retain a personal touch in our business and not bulk buy in batches where we can't control the quality we receive.
We love what we do and this is our favourite part of the job!
High Quality
Quality is so important to us, we choose only the highest quality stones and are very transparent with you, the customer, about the quality and any imperfections.
Whilst we do our best to maintain this right down to our smallest tumbles and roughs, natural imperfections will occur and we trust that the universe will deliver you something that is meant for you.
Competitive Prices
We source all of our crystals direct from all over the world and this means that we can maintain our extremely affordable prices.
We maintain the same margin on all of our stones, regardless of popularity, trends or rare inclusions. If we buy it at a good price, we pass this on to you!
Shipping / Pick Up
Pick Up
Orders can be collected from our Newtown store during our opening hours from Monday to Sunday.
Orders are generally ready for collection the next day however if you urgently need your order on the same day, you can give us a call to arrange that.
Fast Australian Shipping
In most cases, orders are picked, packed and collected by courier within 1-2 days.

Delivery times within Australia can vary from 1-7 days depending on how remote your location is.
International Shipping
Yes, we do ship internationally. If your country is not available from the shipping tab when you checkout, please contact us for a quote.
International delivery times vary depending on the country, again you can contact us directly to find out an estimate.
Returns & Exchanges
Can I Change My Mind?
Yes, you have 14 days to change your mind and exchange your item. Please note that we do not refund but will offer an exchange for something of equal or greater value.
If you purchased something online, you must cover the cost of return postage of the item and the cost of shipping the replacement item out to you.
Do You Accept Returns?
Yes, you can return an item within 14 days if you are dissatisfied with the item chosen for a full refund.
The item must be unopened and in new condition, unless upon opening you notice that it is damaged.
Please email us at crystalarcanainfo@gmail.com to discuss returns.