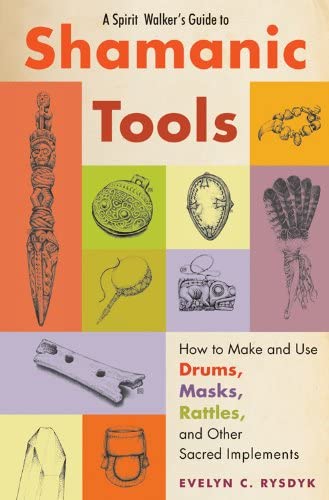 A Spirit Walkers Guide to Shamanic Tools Book
Build Your Own Shamanic Toolkit
In this beautifully illustrated guide, artist and shamanic teacher Evelyn C. Rysdyk shows you how to create, decorate, consecrate, and use various sacred tools in ritual and healing.
Navaho traditional healers bring rattles, corn pollen, eagle feathers, and sage smoke together with songs and dances to affect healing. Ulchi shamans use drums, rattles, and larch tree wands called gimsacha to work healing magic. Manchu shamans will perfume the air with incense and tie on a heavy bustle of iron jingles as a part of their ceremonial costume. Modern shamanic practitioners likewise use sacred tools to facilitate our connection to helper spirits in the Upper, Middle and Lower Worlds, as well as the spirits of nature. While you can purchase many of these tools, there's nothing quite as powerful as making your own. You'll find instructions for making rattles, drums, masks, mirrors, spirit figures, fans, bells, pouches, wands, prayer bundles, flutes, whistles, and more. Plus suggestions for responsible ways to obtain the materials you'll need.
"Having an intimate connection to all the spirits that came together in my favorite rattle--knowing that the tiny pebbles came from the local riverbank, the wood handle from a lightningstruck maple in my yard, and the rawhide from a black bear that was hunted by a native friend for food--gives it a far deeper meaning and power." --from the introduction
The author's original artwork and photographs of shamans and their authentic tools appear throughout the book.
---
Free shipping on orders over $100
A Spirit Walkers Guide to Shamanic Tools Book
Our Selection Process
Ethically Sourced
All of our products are sourced ethically from small businesses and family owned mines all over the world.
We do no support slave labour, unfair working conditions or unfair pay.
Hand Picked
All of our stones are hand picked for their quality, beauty, uniqueness and essense. It is extremely important for us to retain a personal touch in our business and not bulk buy in batches where we can't control the quality we receive.
We love what we do and this is our favourite part of the job!
High Quality
Quality is so important to us, we choose only the highest quality stones and are very transparent with you, the customer, about the quality and any imperfections.
Whilst we do our best to maintain this right down to our smallest tumbles and roughs, natural imperfections will occur and we trust that the universe will deliver you something that is meant for you.
Competitive Prices
We source all of our crystals direct from all over the world and this means that we can maintain our extremely affordable prices.
We maintain the same margin on all of our stones, regardless of popularity, trends or rare inclusions. If we buy it at a good price, we pass this on to you!
Shipping / Pick Up
Pick Up
Orders can be collected from our Newtown store during our opening hours from Monday to Sunday.
Orders are generally ready for collection the next day however if you urgently need your order on the same day, you can give us a call to arrange that.
Fast Australian Shipping
In most cases, orders are picked, packed and collected by courier within 1-2 days.

Delivery times within Australia can vary from 1-7 days depending on how remote your location is.
International Shipping
Yes, we do ship internationally. If your country is not available from the shipping tab when you checkout, please contact us for a quote.
International delivery times vary depending on the country, again you can contact us directly to find out an estimate.
Returns & Exchanges
Can I Change My Mind?
Yes, you have 14 days to change your mind and exchange your item. Please note that we do not refund but will offer an exchange for something of equal or greater value.
If you purchased something online, you must cover the cost of return postage of the item and the cost of shipping the replacement item out to you.
Do You Accept Returns?
Yes, you can return an item within 14 days if you are dissatisfied with the item chosen for a full refund.
The item must be unopened and in new condition, unless upon opening you notice that it is damaged.
Please email us at crystalarcanainfo@gmail.com to discuss returns.