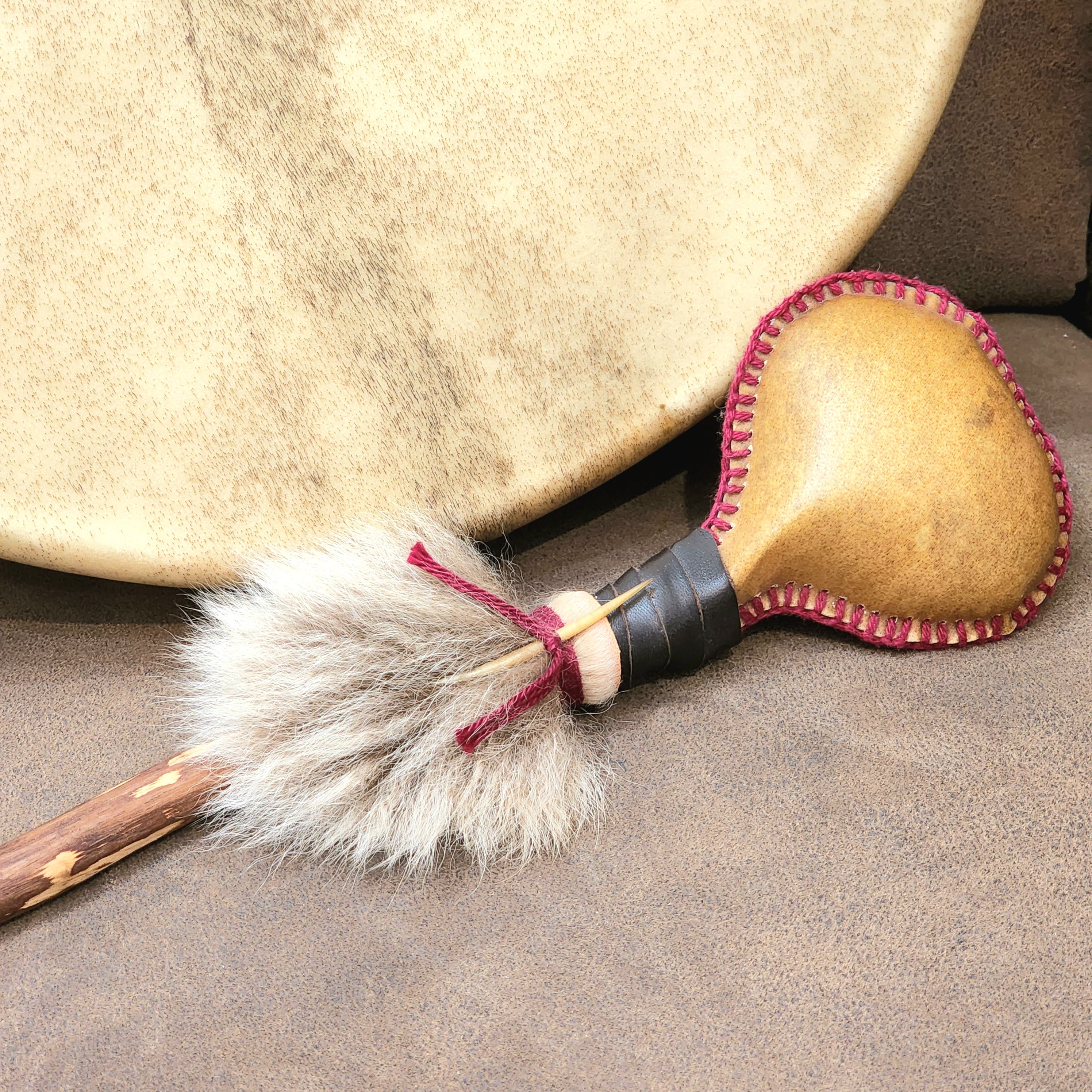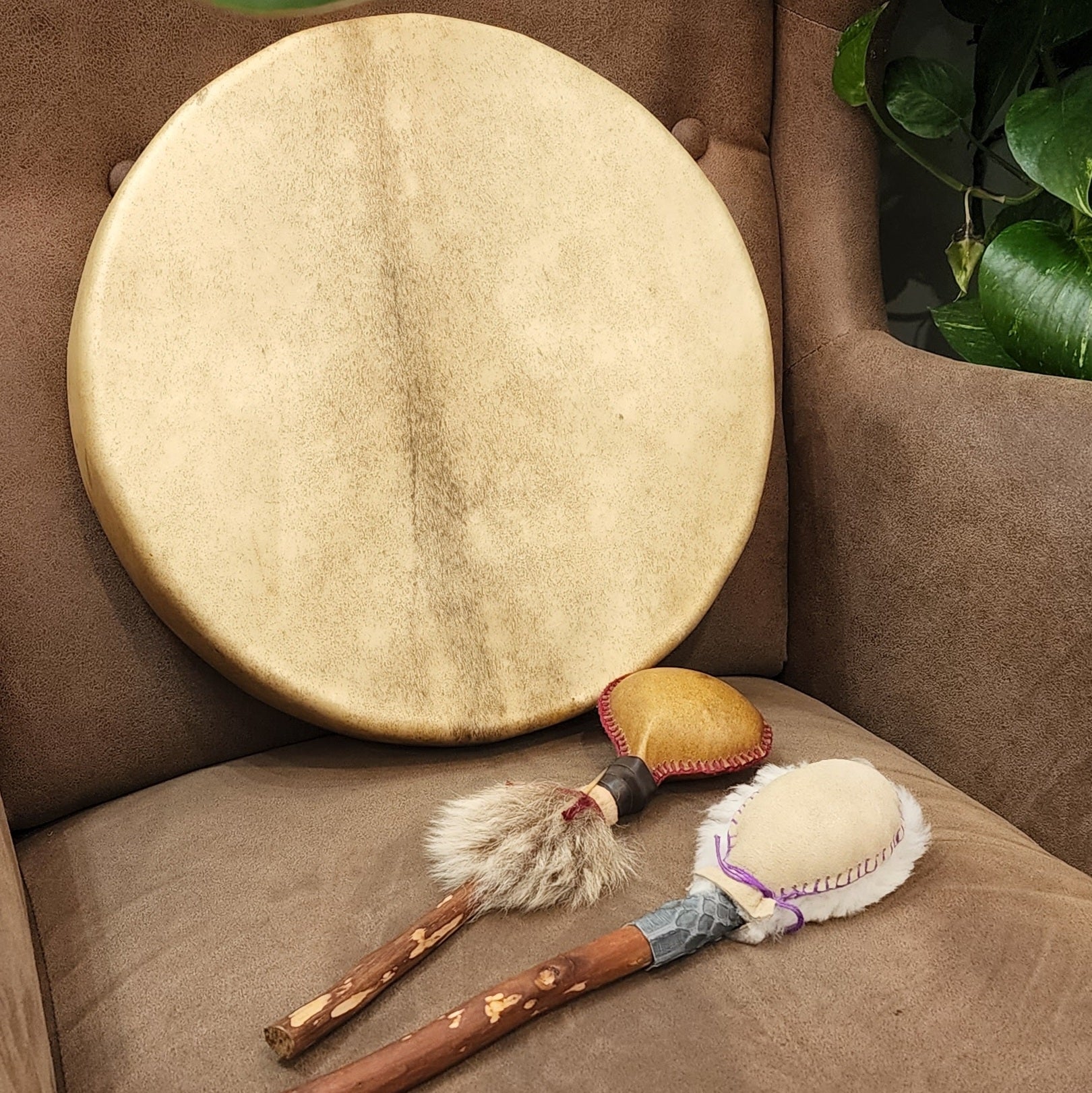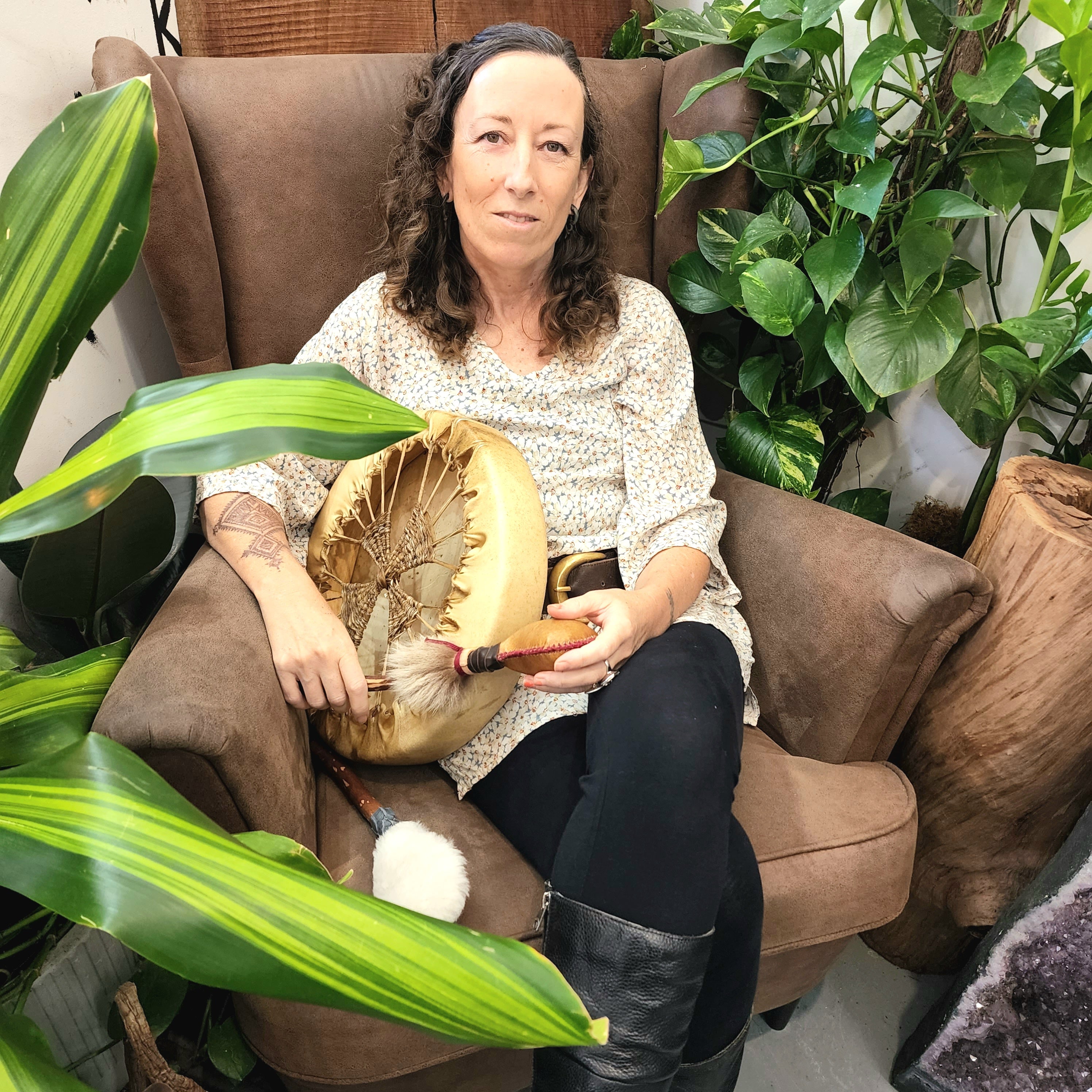 Horse Hide & Kangaroo Fur Shamanic Rattle
Handcrafted and channeled Medicine Rattle by Gypsy Artemis from Sacred Hunger
Made from ethically sourced rare Horse Hide and Snake Skin with an Echidnea Quill
Sustainable and environmentally friendly timber
This is a very rare opportunity to get your hands on horse medicine. You will be hard pressed to find anything like this again!
Crafted by the skilled Gypsy Artemis from genuine and ethically sourced animal medicine that possesses a deep connection to the spirit of the animals, evoking their powerful and transformative energy. A unique and extraordinary tool that bridges the gap between the earthly realm and the spirit world.
Gypsy infuses her creations with reverence, ensuring that the essence of the animal is respected and honored in the making of these sacred instruments. When you play this rattle, you're not just producing sound; you're inviting the spirit of the animal into your rhythm, fostering a deep sense of connection to the natural world.
The Spirit Within: Our Handmade Medicine Rattle is not just an exquisite work of art; it is a vessel that encapsulates the essence and spirit of the horse. Gypsy Artemis's intuitive craftsmanship imbues every rattle with the sacred energy of the horse, providing you with a direct conduit to the wisdom and power of this magnificent creature. As you hold the rattle in your hands, you can feel the resonance of the horse's spirit coursing through you, connecting you to a deeper understanding of the natural world.
The Medicine It Provides: This remarkable rattle is more than just a tool; it is a source of potent medicine. The horse symbolises freedom, strength, and endurance, and its spirit within the rattle imparts these qualities to those who wield it. The rattle's healing vibrations can aid in meditation, energy work, and shamanic journeys, facilitating spiritual growth and self-discovery. Its soothing sound and the horse's energy can provide a calming and grounding effect, making it an excellent companion for stress relief and emotional healing.
Kangaroo represents agility and forward movement, offering energy for leaps of progress and balance in life. 
Echidna embodies resilience and introspection, inspiring adaptability and the power to unearth hidden wisdom.
How to Use: 
Meditation and Grounding: Incorporate the rattle into your meditation practice to ground yourself and enhance your focus.

Shamanic Journeys: Use the rattle to assist in your shamanic journeys, helping you connect with spirit guides and gain insights from the otherworldly realms.

Healing Rituals: Employ the rattle during energy healing sessions to clear stagnant energies and promote balance and harmony particularly at the end of a session.

Ceremonial Purposes: This rattle is an ideal companion for rituals and ceremonies, providing a sacred sound that resonates with the horse's, kangaroo and echidnea spirits.

Sound Therapy: Enjoy the calming and soothing sound of the rattle, which can alleviate stress and promote relaxation.
---
Free shipping on orders over $100
Horse Hide & Kangaroo Fur Shamanic Rattle
Our Selection Process
Ethically Sourced
All of our products are sourced ethically from small businesses and family owned mines all over the world.
We do no support slave labour, unfair working conditions or unfair pay.
Hand Picked
All of our stones are hand picked for their quality, beauty, uniqueness and essense. It is extremely important for us to retain a personal touch in our business and not bulk buy in batches where we can't control the quality we receive.
We love what we do and this is our favourite part of the job!
High Quality
Quality is so important to us, we choose only the highest quality stones and are very transparent with you, the customer, about the quality and any imperfections.
Whilst we do our best to maintain this right down to our smallest tumbles and roughs, natural imperfections will occur and we trust that the universe will deliver you something that is meant for you.
Competitive Prices
We source all of our crystals direct from all over the world and this means that we can maintain our extremely affordable prices.
We maintain the same margin on all of our stones, regardless of popularity, trends or rare inclusions. If we buy it at a good price, we pass this on to you!
Shipping / Pick Up
Pick Up
Orders can be collected from our Newtown store during our opening hours from Monday to Sunday.
Orders are generally ready for collection the next day however if you urgently need your order on the same day, you can give us a call to arrange that.
Fast Australian Shipping
In most cases, orders are picked, packed and collected by courier within 1-2 days.

Delivery times within Australia can vary from 1-7 days depending on how remote your location is.
International Shipping
Yes, we do ship internationally. If your country is not available from the shipping tab when you checkout, please contact us for a quote.
International delivery times vary depending on the country, again you can contact us directly to find out an estimate.
Returns & Exchanges
Can I Change My Mind?
Yes, you have 14 days to change your mind and exchange your item. Please note that we do not refund but will offer an exchange for something of equal or greater value.
If you purchased something online, you must cover the cost of return postage of the item and the cost of shipping the replacement item out to you.
Do You Accept Returns?
Yes, you can return an item within 14 days if you are dissatisfied with the item chosen for a full refund.
The item must be unopened and in new condition, unless upon opening you notice that it is damaged.
Please email us at crystalarcanainfo@gmail.com to discuss returns.