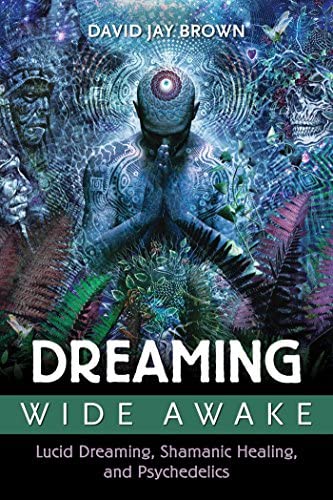 Dreaming Wide Awake Book By David Jay Brown
A detailed guide to mastering lucid dreaming for physical and emotional healing, enhanced creativity, and spiritual awakening

• Offers methods to improve lucid dreaming abilities and techniques for developing superpowers in the dream realm

• Explains how to enhance dreaming with supplements, herbs, and psychedelics

• Explores the ability of lucid dreamers to communicate with the waking realm and the potential for shared lucid dreaming and access to our unconscious minds

In a lucid dream, you "awaken" within your dream and realize you are dreaming. With this extraordinary sense of awakening comes a clear perception of the continuity of self between waking and sleeping and the ability to significantly influence what happens within the dream, giving you the opportunity to genuinely experience anything without physical or social consequences. In this way, lucid dreaming offers therapeutic opportunities for fantasy fulfillment, fear confrontation, and releasing the trauma of past experiences. With development and practice, lucid dreaming can provide a powerful path to greater awareness, heightened creativity, spiritual awakening, and communication with the vast interconnected web of cosmic consciousness.

In this detailed guide to mastering the practice of lucid dreaming, David Jay Brown draws from his more than 20 years' experience using these techniques and his interactions with dozens of experts on consciousness, physics, dreaming, and entheogens, such as Stanley Krippner, Rupert Sheldrake, Stephen LaBerge, Robert Waggoner, Dean Radin, Terence McKenna, and many others. He explores the intimate relationship between lucid dreaming, shamanic journeying, visionary plants, and psychedelic drugs and how they are used for healing and spiritual development. Offering methods for improving both lucid dreaming and shamanic journeying abilities, he explains how to enhance dreaming with oneirogens, supplements, herbs, and psychedelics and offers techniques for developing superpowers in the dream realm.

Summarizing the scientific research on lucid dreaming, Brown explores the ability of lucid dreamers to communicate with people in the waking realm and the potential for dream telepathy, shared lucid dreaming, and access to the vast unconscious regions of our minds, opening up a path that takes us beyond dreaming and waking to dreaming wide awake.
Industry Reviews
"David Jay Brown's book is a brilliant synthesis of current research, ancient and indigenous wisdom, and extensive personal experience. Based on a wealth of hard data, historical research, and dream diaries, Brown deftly ties together not only lucid dreams but also similar events from other altered states. While the book centers on lucid dreams, it incorporates parallel experiences in psychedelic use and shamanism, giving us, perhaps, the first sophisticated synthesis for exploring difficult to access realms of consciousness. Filled with practical and doable suggestions on how to enhance lucid dreaming and how to maximize its healing effects, Dreaming Wide Awake is a splendid, well-written, revelatory, yet pragmatic look at the dreaming mind."
---
Free shipping on orders over $100
Dreaming Wide Awake Book By David Jay Brown
Our Selection Process
Ethically Sourced
All of our products are sourced ethically from small businesses and family owned mines all over the world.
We do no support slave labour, unfair working conditions or unfair pay.
Hand Picked
All of our stones are hand picked for their quality, beauty, uniqueness and essense. It is extremely important for us to retain a personal touch in our business and not bulk buy in batches where we can't control the quality we receive.
We love what we do and this is our favourite part of the job!
High Quality
Quality is so important to us, we choose only the highest quality stones and are very transparent with you, the customer, about the quality and any imperfections.
Whilst we do our best to maintain this right down to our smallest tumbles and roughs, natural imperfections will occur and we trust that the universe will deliver you something that is meant for you.
Competitive Prices
We source all of our crystals direct from all over the world and this means that we can maintain our extremely affordable prices.
We maintain the same margin on all of our stones, regardless of popularity, trends or rare inclusions. If we buy it at a good price, we pass this on to you!
Shipping / Pick Up
Pick Up
Orders can be collected from our Newtown store during our opening hours from Monday to Sunday.
Orders are generally ready for collection the next day however if you urgently need your order on the same day, you can give us a call to arrange that.
Fast Australian Shipping
In most cases, orders are picked, packed and collected by courier within 1-2 days.

Delivery times within Australia can vary from 1-7 days depending on how remote your location is.
International Shipping
Yes, we do ship internationally. If your country is not available from the shipping tab when you checkout, please contact us for a quote.
International delivery times vary depending on the country, again you can contact us directly to find out an estimate.
Returns & Exchanges
Can I Change My Mind?
Yes, you have 14 days to change your mind and exchange your item. Please note that we do not refund but will offer an exchange for something of equal or greater value.
If you purchased something online, you must cover the cost of return postage of the item and the cost of shipping the replacement item out to you.
Do You Accept Returns?
Yes, you can return an item within 14 days if you are dissatisfied with the item chosen for a full refund.
The item must be unopened and in new condition, unless upon opening you notice that it is damaged.
Please email us at crystalarcanainfo@gmail.com to discuss returns.